Kauai Real Estate Update- What Sold, was Just Listed and what went Under Contract last week on the island of Kauai? To find out click here: Kauai Real Estate Update January 30 to February 5, 2023.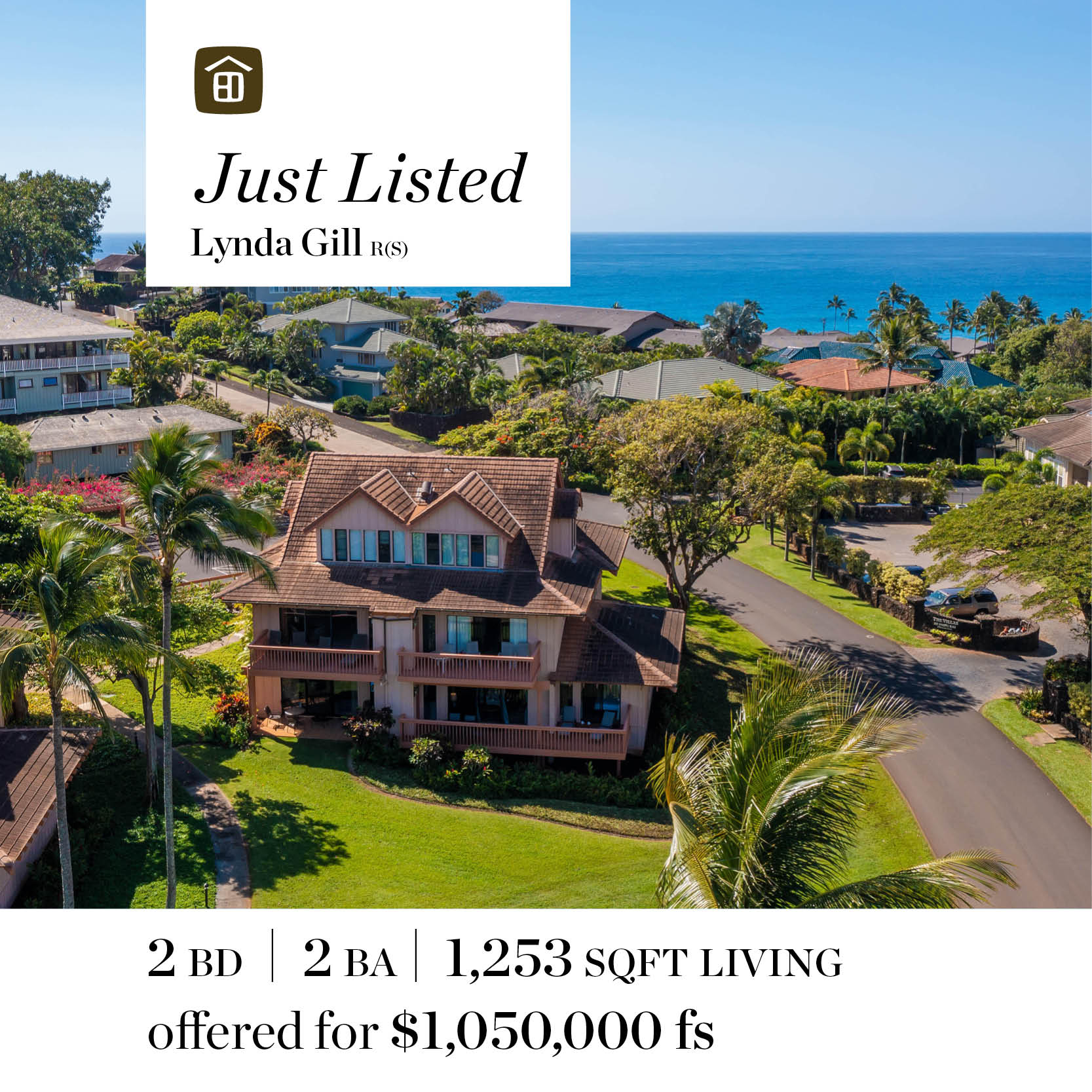 Poipu Beach Real Estate Update- Are you on island and would you like to see my new Makanui listing? Or…do a Facetime/Zoom tour? It's available this Thursday and I'm happy to set that up for you. Give me a call to discuss. For a complete list of all the Fee Simple real estate activity in Poipu since January of this year click here: Poipu Beach Fee Simple Current Market Analysis.
Kiahuna Plantation Real Estate Update- To track all the activity at the Kiahuna since the beginning of this year click here: Kiahuna Plantation Current Market Analysis.
Two New Radio Stations For Kauai
Maybe not "new", more "revamped".
Hawaiian 107.9 which played (predictably) traditional Hawaiian music will now be called "107.9 The X" which will play new rock and will target men between the ages of 18 and 49. Why the change? The station manager said the traditional Hawaiian music station was not getting enough support.
Sunny 101.3 is moving up a couple of decades. Instead of playing music from the 60's and 70's they will now play music from the 70's, 80's and 90's. This is to be more inline with adults 25 to 54 years old.
I grew up in Orange County, CA and it seemed like every button on the FM dial and every space in between had a station on it. On Kauai it's far from that, so this is indeed news.
Larry Rivera Passes Away
You couldn't think about the Coco Palms without thinking about Larry Rivera. The first time I saw him was on our first visit to Kauai in May of 1992, my husband and I did a tour of the Coco Palms and Larry came out and played his ukulele and sang. And he never stopped doing that, even after the hotel was destroyed.
Last week, one of Kauai's most beloved citizens pass away at the age of 92.
Larry started his Coco Palms show with his family in the 1950's and they played 7 nights a week. He worked with Elvis in Blue Hawaii and with Bruddah Iz.
Larry was performing at Café Portofino which overlooks Kalapakai Beach with his daughter Lurline Fernandez, his last performance was there just last month. On January 22 Larry and his wife Gloria had celebrated their 68th wedding anniversary.
Possible Cesspool Conversion Tax Credit Bill
Sewers, Septic Systems and Cesspools. Very few properties here on Kauai are connected to a county sewer system which is pretty much the norm for most urban areas on the mainland. Most are either connected to a very large sewer system and a payment is made every month for that connection, or they have a private septic system on their property or they have a cesspool. Starting in 1993 new construction required that a septic tank be installed and not a cesspool.
Starting in 2050 it will be mandatory for all cesspools to be converted over to septic systems. In the state there are 88,000 cesspools and 14,000 of those are on Kauai.
Tax Incentive To Convert Expired December 31, 2020
HB 440 is purposing to do two things: 1) reestablish the tax credit of $10,000 2) require a change on our Hawaii Sellers Disclosures to let the buyer know that they have to do this conversion by 2050.
Currently the only way a buyer would know about this mandatory 2050 conversion is through their own independent research or if their Realtor has informed them and if your agent does not know about this law, and your from out of state, chances are you won't hear about it until after you've bought the property.
This Bill is gaining good traction, to read the Bill in its entirety click on this link: HB440 Septic Bill
Kauai Real Estate Year To Date 2023 vs 2022
Over the many years and different market conditions that I've been doing these reports the data for the first couple of months is never solid enough to have an accurate read but this year is the strangest one yet. It's typical that the first couple of months will not have enough data to get a true read on the market, but this year with the low inventory the number of sales are so off it was a struggle to do this report.
Here's what I mean: In 2022 at the end of January there were 52 homes sold island wide, at the end of last month only 16 homes had sold on the entire island. We just can't get a good number read with that low number of sales.
In 2022 of the 52 homes that sold 29 of them were under $1 million, in 2023 out of the 16 homes that sold 11 were under a million. The buyers are there, but the inventory isn't.
What we are seeing this year as opposed to last are Sellers adjusting their prices to match the current comps which we did not see last year. A year ago the listing price just got bumped up higher than the last sale and the Seller got their number and got it fast, now it has to match the comps and the numbers show this: The Median Sale Price to the original list price at the end of January 2022 was 100% which means the Sellers were doing no price adjustments. In 2023 95.1% sale price to original list price signifying that price changes have been adjusted.
Contact me to get a better read on your particular area of interest.