Kauai Real Estate Update- The low amount of properties that came on the market last week was not a surprise as we are back to a more seasonal market and this is a slower time of year. What was surprising is there were only 12 new listings for last week and of those 12 two had sold before being listed and one is under contract already. For a complete list of all the real estate activity last week on the island click here: Kauai Real Estate Activity October 23 to 29, 2023
Poipu Beach Real Estate Update- Rare opportunity to own a piece of land in a unique and unmatched subdivision in one of Kauai's most sought-after destinations. Included in the sale are house plans from one of Kauai's most renowned and respected designers, who is well known for her seamlessly ability to blend the charm of old Hawaii with modern convenience. Her design is one that embodies the island's rich heritage with contemporary comfort. A benefit to the Buyer is the plans for this 3-bedroom home have been submitted to the County bringing the Buyer one step closer to a dream property on Kauai's sunny south shore. To see more on this listing click here: Poipu Aina Estate Lot 3A
To get an update on the Fee Simple activity in Poipu since the beginning of this year click here: Poipu Beach Year To Date Current Market Analysis
Kiahuna Plantation Real Estate Update- For a complete list of all the real estate activity since the first of this year click here: Kiahuna Plantation Year To Date Current Market Analysis
Coco Palms Back In Front Of Planning Department
Following a disastrous public meeting on October 18th Coco Palms met last week with both the Planning Department and the Kauai County Council. The purpose of the meeting for the Planning Department was for them to acknowledge a receipt of their Annual Report which they did, additionally the public was there to provide more opposing testimony to the 350 resort. The Kauai County Council requested the head of the Planning Department to explain how the permits, which were issued almost 10 years ago, could be valid. It was explained that the Developers have "paid into various things" in dollar amounts ranging from $1K to $1 Million from 2015 to 2018 which vested the permits. The Planning Commissioner went on to say: "So any attempt of the planning commission to deny these permits now comes with a legal responsibility and possibly very large financial responsibility." As it stands we are just weeks away from the demolition of Coco Palms.
Q3 2023 Market Recap, Kauai Home Prices and Inventory Are Both Up
The end of the third quarter for Kauai's real estate was some interesting data. The post-pandemic real estate surge established higher price standards, largely driven by all-cash transactions and low-interest rate loans. The evolving mix of properties sold after the pandemic has caused some fluctuations in Kauai's housing prices. While we anticipate this volatility to stabilize in the coming years, there's no strong indication that prices will see significant drops. If you would like a comprehensive report email me at [email protected]
In looking at the graph below spanning the past decade, it becomes evident that individuals who refrained from purchasing in 2013, driven by concerns of a potential market downturn, may have foregone substantial appreciation.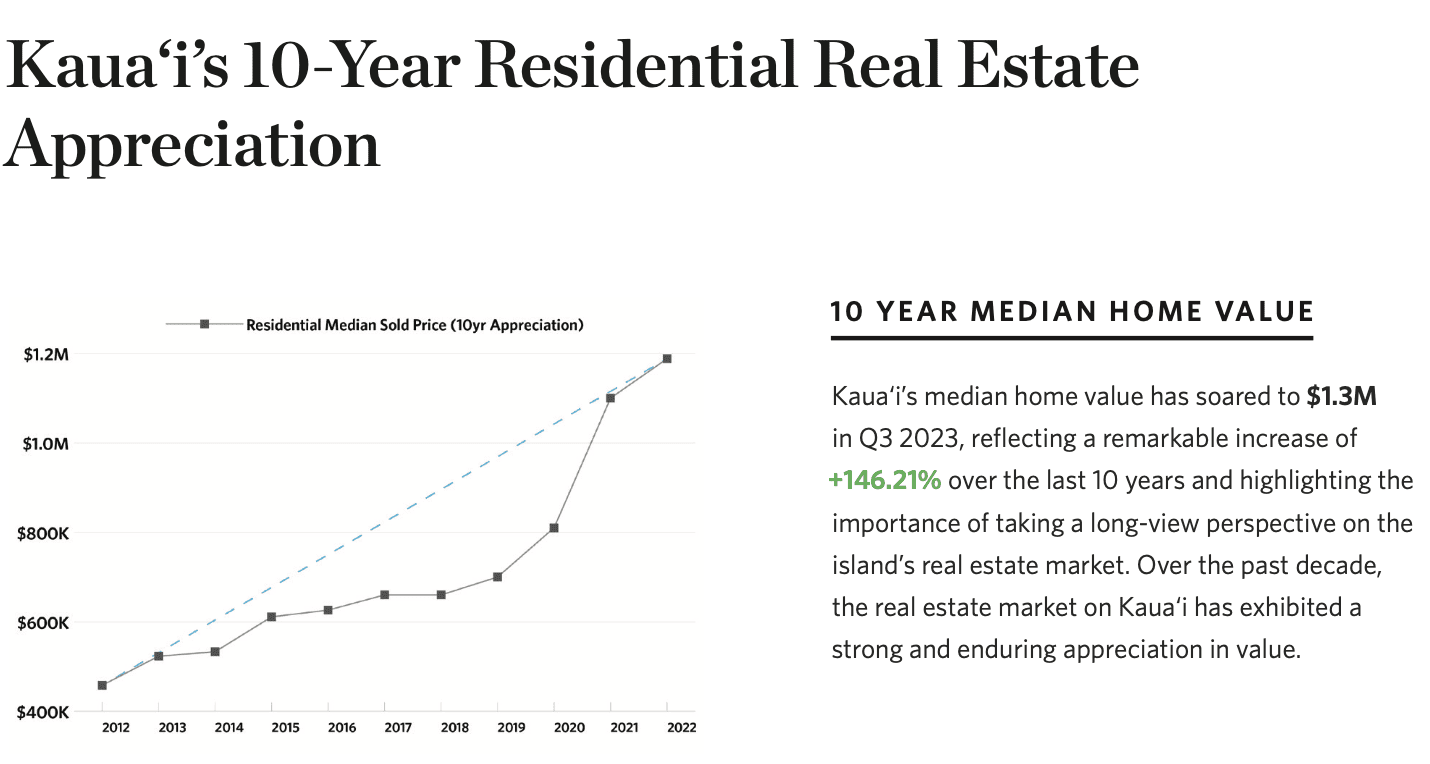 West Maui To Open To Tourism November 1
Phase two of the three part approach to reopening Maui will start November 1 with the area in West Maui that is North of Lahaina, from Kahana to Kaanapali, to open for tourism. The first phase was from The Ritz-Carlton to Kahana Villas on October 8th.
So far there are 7,000 displaced residents that are in shelters who have been assured that the return of visitors will not impact their temporary housing.
The Hawaii Lodging & Tourism CEO stated "From the outset, we have always maintained that there is a balance we are hoping to achieve – between preserving Lahaina, ensuring that families would have housing and other needs such as family and childcare services fulfilled, and having West Maui residents return to their jobs to give them a sense of normalcy."
Nippon Airways Strengthens Travel Between Tokyo and Hawaii
When we opened back up for tourism in April of 2021 there was an immediate and sustained uptick in travel from the mainland. However the Japanese market, which is crucial to Oahu, has struggled a bit. However Nippon Airways brought back in a third Airbus A380 into service which is a "significant expansion". Beginning on December 6th Nippon Airways will increase their daily flights from Tokyo to Honolulu from two to three. This new flight will bring the total up to 18,004 which is above the pre-covid level.
I had some clients from Japan that were here recently and they really like the "Flying Honu" which is painted just as you might expect, like a giant turtle. The Airbus A380 has 8 Ultra-First Class seats, 56 Premium Seats and 383 in Economy.
While the Japanese market is not a strong one here on Kauai we will benefit from the any uptick in travel from any one of our islands, all boats rise with the tide.