Kauai Real Estate Update- For a complete list of all the real estate activity on the island of Kauai for last week click here: Kauai Real Estate Activity November 1 to 7th, 2021
Poipu Beach Real Estate Update- I'm writing this on Monday, November 8th which is the 312nd day of our year and as of today, in Poipu Beach there have been 313 completed sales. Basically we've been closing 1 property every day in Poipu Beach. These numbers include both Fee Simple and Leasehold properties. I looked at this same time last year and found there were 144 sales that had happened, less than half of where we're at now. The main driver is tourists being able to come back in April, this was a huge boost in our already robust real estate market.
In Escrow! Poipu Aina Lot 7A- this is the last lot available in this subdivision and it's now under contract. Pretty unique subdivision in Poipu Beach; each lot is at least 2.5 acres and no vacation renting is allowed. You normally need to get out of the Poipu Beach for this kind of land so this subdivision offers that best of both worlds.
For a complete update on the Poipu Beach fee simple market click here: Poipu Beach Fee Simple Current Market Analysis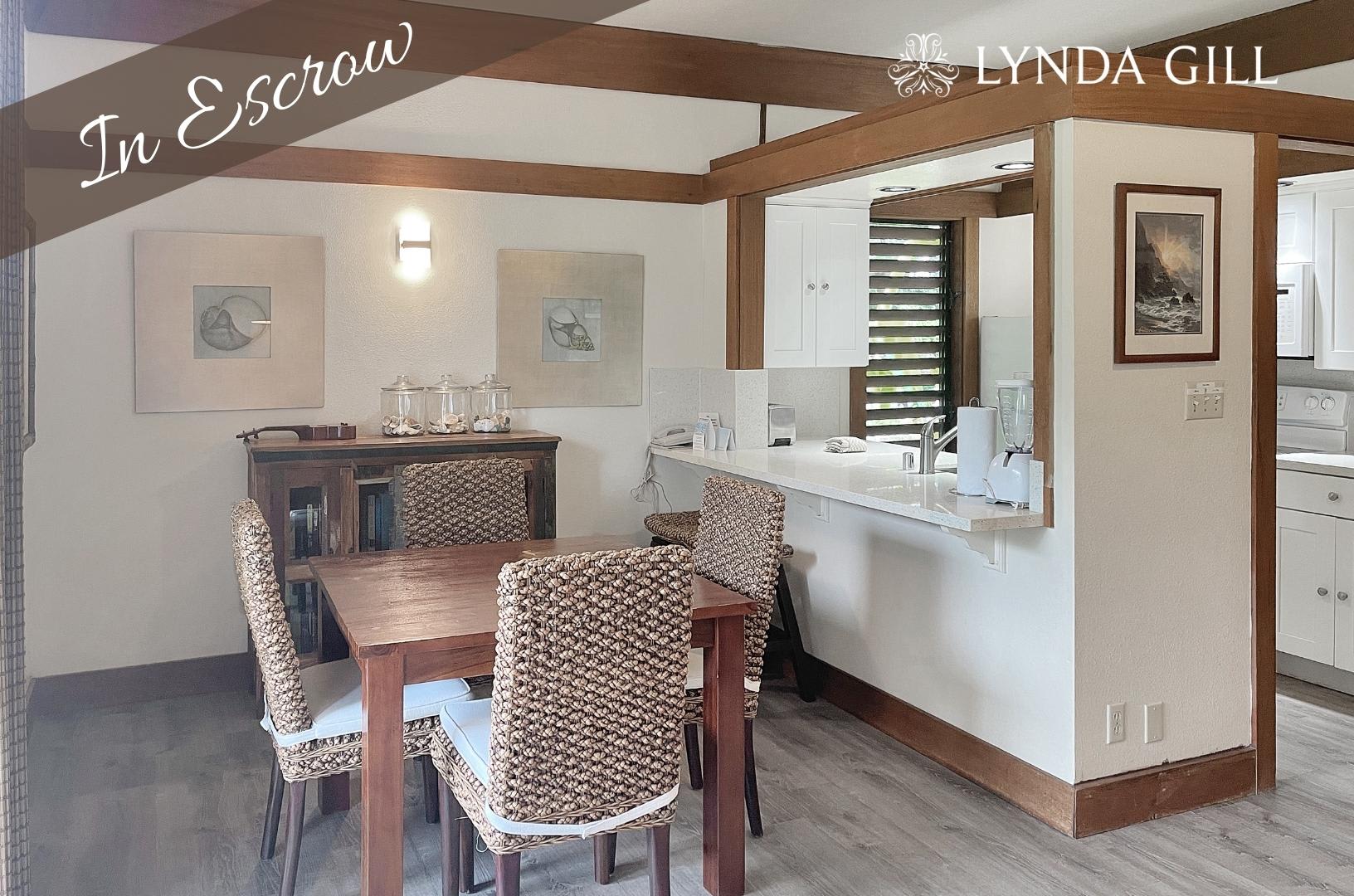 Kiahuna Plantation Real Estate Update- In Escrow! A listing of mine at the Kiahuna Plantation, unit #406, got an accepted offer this last week. This ground floor corner unit had some nice updates to it and was priced right at $165,000 (LH). For a complete list of all the real estate activity at the Kiahuna Plantation click here: Kiahuna Plantation Current Market Analysis
Kauai Building Supply Chain Issues
As a result of the pandemic our supply chain here on Kauai has been impacted meaning; if you need to replace something, remodel or build a new home it's a real challenge right now. The supply chain struggles the mainland is having is even more so over here.
This is not a forever situation and you'll know things will start getting better over here when you see things getting better on the mainland. Until then a lot of patience is required.
Contractors reported that appliances are 12 months out, random items that used to be readily available are no longer in stock and if you get a quote for a job the timeline to accept it might be shorter due to rising costs and lack of materials.
New State Vaccine Order Disrupts Kauai
An Executive Order from our Governor will abolish occupancy limits on restaurants, bars and gyms if a vaccination card or a negative COVID test is provided starting November 12. However, on Kauai vaccination requirements for entry are currently not required. In short, we'll have an order that will allow our Kauai businesses to operate at full capacity by showing a vaccination card on our island that does not have a mandate to show proof of vaccination in the first place.
Currently the islands of Oahu and Maui require proof of vaccination, Kauai and the Big Island do not.
Our Kauai Mayor stated that this "essentially forces the County (Kauai) to implement such a policy in order to allow our local businesses to operate above 50%. We're now in a position where we must make a quick decision."
The discussion on how Kauai will move forward with this new rule that will start this Friday is currently being had between our Mayor, businesses and the Kauai Chamber of Commerce. More news to come.
Zillow Stops Its "iBuying" Program After Overpaying For Properties
Zillow will stop its iBuying, or instant buying, program called Zillow Offers. The company has lost about $304 million after buying homes at higher prices than what they can sell them for. Nationally they bought 9,680 homes but have only sold 3,032 million and in this Sellers market, something is really wrong here.
Bill Weaton, a housing economist at the Massachusetts Institute of Technology sums it up what went wrong perfectly; Homeowners know a lot more than the iBuyers about the problems that make their homes tricky to sell. He states "The owners know what skeletons lie in the house and what the local market is like. The people coming in from Zillow don't know squat. The ones who self-select (to sell their property) are people who have houses that are difficult to sell." And that, he says, presents a major challenge for Zillow or any other iBuyer company.
After my almost 18 years of being a full time Realtor here on Kauai I've seen too much to believe that the process of Buying and Selling real estate can be automated. So Zillow tried and it didn't work, I'm not surprised. I went to their site and when I clicked on the link to get started with selling a property here is what I got:
Zillow Offers is winding down, which means we are not making any new offers on homes. We're focused on helping existing customers and selling our remaining inventory. If you're looking to sell, we can connect you with an expert agent in your market. If you have questions about a current contract with Zillow Offers click here.......
Bill To Ban "Glamping" On The Table
Bill No. 2838 would amend the County's zoning ordinance to not allow undeveloped and developed campgrounds for short term occupancy on lands that are not already resort-zoned lands. This bill is a result of the friction between Princeville Residents and Starwood Capital Group. Starwood is currently trying to get permits for a 50-tent glamping operation on three holes of the Woods Course within the Makai Golf Course, which is on open-zoned land.
Starwoods glamping proposal is having its official hearing on December 14 in front of the Planning Commission but this proposed Bill 2838 to stop it could be passed by December 1. The Bill was introduced by two Councilmembers and has had widespread community support.
Talk with Valerie Harjo
Back in my Rookie days I had taken people out looking at properties before I had them get prequalified, didn't take me long to learn why this doesn't work. Ultimately getting prequalified serves the Buyer, especially in todays market. But how does this work when you are on vacation and an ocean away from your paperwork at home? It's simpler than you think and we break it down here on this video which is the second one in my series that I'm doing on my talk with Valerie Harjo with Guardian Lending.