Kauai Real Estate- I'll soon be listing a waterfront estate in Lihue that has dramatic views of the Mount Haupu range, direct access to the Huleia River and tranquil living just minutes away from town. Located on over 37,000 square feet of land you truly are transported to the tranquility of old Hawaii. Listing will be for $2,750,000 and is being sold fully furnished.
For a complete list of what Sold, was Just Listed and what went into Escrow last week on the island click here: Kauai Real Estate Update September 5 to 11, 2022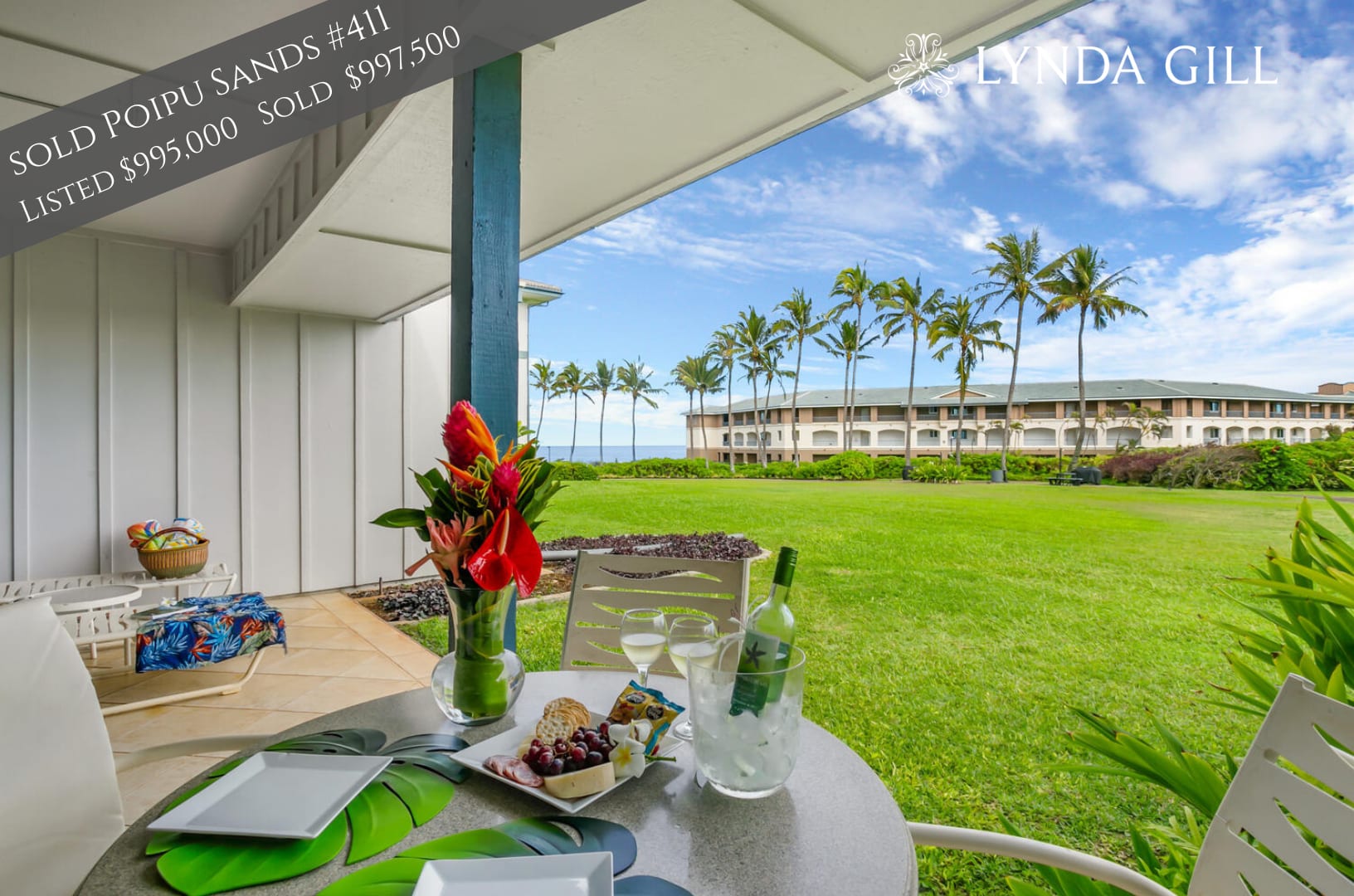 Poipu Beach Real Estate- Poipu Sands #411 is the only 1 bedroom that has no unit above or below and three side walls that were not shared. My Sellers were only the second owners, such a unique property. I had it listed at $995,000 and it sold for $997,500. My other Poipu Sands #424 for $1,290,000 that I blogged about last week got an accepted offer after only 4 days on the market. For a complete list of all the real estate activity in Poipu Beach since January 1 click here: Poipu Beach Fee Simple Current Market Analysis
For the Kiahuna Plantation click here: Kiahuna Plantation Current Market Analysis
Two Top Oahu Department Of Planning Officials Resign
I hope that this shift in perspective continues; the problem with housing is not the mainlanders buying over here, it's a Planning/Permitting issue. This is a statewide problem but this story is dramatic and based on Oahu.
Several weeks ago I wrote about the Grassroots Study which laid out the numbers that showed mainland buyers are on the decline, Hawaii resident buyers on the incline, and the permitting process to be the core issue for affordable housing not being built. To see the article in full click: HERE
Oahu's mayor Rick Blangiaridi is going to meet this week with a group of contractors for various construction companies to hear their take on the problems with the Department of Planning. One week before that meeting two top leaders of Oahu's Department of Planning and Permitting quit. In the resignation letter to the Mayor from the Director of Planning I believe it says it all: "It has been quite an eventful 21 months with your administration. Unfortunately, we have some philosophical differences on what is needed at the Department of Planning and Permitting to correct the decades of poor management and leadership. I believe it is an appropriate time for me to step away and allow you and your administration to move in a different direction."
August 2017 to get a residential permit it took three months, in 2022 it's 7 months. For commercial properties in 2017 it used to take 5 months, in 2022 it takes more than a year.
Oahu, Maui and Big Island Real Estate August 2022 vs 2021
Last week we looked at the Kauai Real Estate numbers Year To Date and compared them to the same time a year before. These numbers will now start to reflect the impact of the interest rate hike that we saw in May.
For Kauai the numbers showed the Median Price still trending upward and the number of sales going down due to lack of inventory. So how about the other islands?
The big player in the real estate market of course is Oahu and their Board of Realtors reported that inventory is slightly up but still lagging behind the pre-pandemic numbers. 13% of the homes saw a price reduction in August compared to 4% in August of 2021. Fewer properties are selling at "premium" prices (which means priced above the last like kind sale) but, if priced correctly you'll get a sale. Sounds very familiar. At the end of August the home sales are down 13.2% but the Median Price is up at the same pace it's been; $1,050,000 in August 2021 compared to $1,125,500 in August 2022 a 7.2% increase. For condominiums the number of sales have dropped 1.3% and their Median Price was slightly down by 0.3% going from $500,000 in August 2021 to the present $498,500 in August 2022.
Maui Median Home price is now $1,150,000 compared to $999,000 at the end of August in 2021 at 15.1% increase. The number of homes sold is down at 756 compared to 927 the year before a -18.4% decrease. Condominium Median Prices are also up at $769,000 compared to $640,000 a year before which is a 20.3% increase. The number of condos sold is down at 1,191 compared to 1,671 last year a -28.7% decrease.
A home on the Big Island of Hawaii is now $500,000 compared to $467,750 a year ago which is a 6.89% increase. The number of sales dropped by -12.58% from 2,163 last year to 1,891 this year. Condominium prices also increased to $575,000 compared to $467,777 a year ago which is a 22.92% increase. Condo sales, however, are down -26.71% from 861 at the end of August 2021 to 631 August 2022.