Kauai Real Estate Update- Have you ever been to a property that takes you to another world? That's exactly what it feels like at a home I just listed in Niumalu which is in Lihue. This riverfront estate in Niumalu provides the privacy of country living, an expansive lawn, and unmatched views of the Haupu Mountain range. The open-concept kitchen and living room flow seamlessly into the outdoor living space. Tucked away on over 37,000 sq ft of land, this tranquil 4-bed, 3-bath home is steps away from the Huleia River and 10 minutes from all that Lihue has to offer. Offered at $2,195,000
For a complete list of all the real estate activity for last week on Kauai click here: Kauai Real Estate March 28 to April 3, 2022


Poipu Beach Real Estate Update- Congratulations to my Buyers on their purchase of Koloa Landing 3-201. We had been looking for a while and when the time was right for them to purchase I was thrilled that this floor plan was available for them. This single level 2 bedroom 2.5 bath is sold fully furnished, has central air and high end appliances. But here is what I love about this unit: the wrap around lanai. Most 2 bedrooms do not have this feature, you need to buy a 3 bedroom with a corner location to get this. There are only a small amount of 2 bedrooms like this at Koloa Landing. Price: $1,800,000 (FS).
For a Poipu Beach market update click here: Poipu Beach Fee Simple Current Market Analysis
For a Kiahuna Plantation market update click here: Kiahuna Plantation Current Market Analysis.
Airbnb and VRBO Rentals Nearing Pre Covid Occupancy Rate
Hawaii vacation rentals, which is defined as "the use of a rental house, condominium unit, private room in private home, or shared room/space in private home", was up to a 73% occupancy rate statewide in the month of February according to the Hawaii Tourism Authority. In February of 2019 the rate was 82% statewide.
The supply of vacation rental condos and homes has had two factors that have impacted it since 2019. One being people buying and moving over here after discovering they can work remotely and the other being the crackdown on illegal rentals on Oahu. In February of 2021 there were 462,700 places to rent which is a 25% decrease from the February 2019 supply.
Demand Up-Supply Down. In February of 2022 occupancy and the nightly rate increased by 20% from February of 2021, but supply is down 13.5%.

Here is a breakdown by island for the month of February, 2022
Kauai Occupancy 74.5% ADR $388
Maui Occupancy 70.9% ADR $378.00
Oahu Occupancy 71.7% ADR $222
Big Island Occupancy 72% ADR $351
Kauai Real Estate 2022 vs 2021
For homes in March of 2022 the average Days On Market (DOM) was 57, compare that to March of 2021 when it was 98. Condominiums are selling even faster, March of 2022 38 DOM and in March of 2021 82.
For Homes the Sold Price compared to the Original List price from this year to last is very close; 98.1% in March of 2022 and 96.3% March of 2021. However condominiums are leading the way with 100.5% of the Sold Price compared to the Original Listing Price. This up from $96.4% a year ago.
The Median Price for a home on Kauai is now $1.2 million. On the North Shore it jumped from $1,678,500 in March of 2021 to $2,601,450.
The graph below is general in nature and might not reflect your particular area of interest, contact me for more specific information on how this relates to you.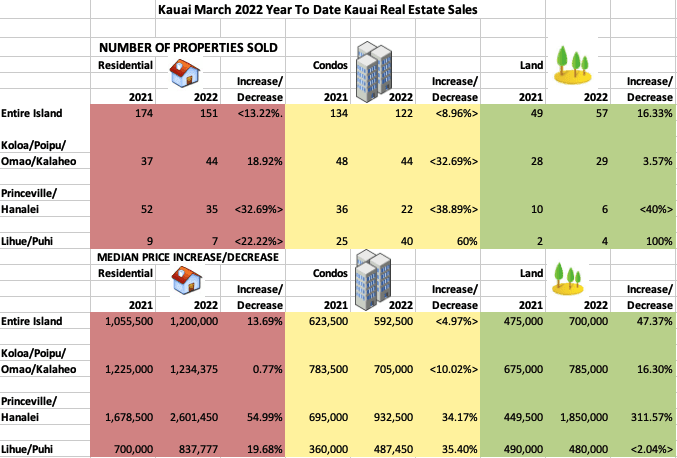 Eliminate The "What's Your Occupancy Rate?" Question
When interviewing rental property managers have you asked "What kind of occupancy rate do you get on your properties?" if so, you might be on the wrong track so says Linda Sylvester rental manager at Koloa Kai. This is Episode 8 of my interview with Linda where I ask her questions that my Buyers have brought up over the years. In this clip of our Facebook Live talk she discusses that it's not about the occupancy, and how trying to achieve a high occupancy rate can be detrimental to your property and to your goal of maximizing the most money that you can get out of your vacation rental.
To see more of these clips go to: www.LyndaGillYouTube.com