Kauai Real Estate Update- Coming Soon, lovely townhome in Puhi. Regency Huleia is perhaps one of my favorite condominium complexes in Puhi which is located in Lihue. These don't come on the market often and when they do they go quickly, let me know if you would like more information when it become available. These have a one car garage, amenities include a pool and have a wonderful floor plan. Long term rentals are allowed but no vacation renting.
For a complete list of everything that has Sold, was Just Listed and what went Under Contract last week click here: Kauai Real Estate Update February 6 to 12, 2023
Poipu Beach Real Estate Update- 125% uptick for condo prices in Poipu? Not even close but that is what the lack of inventory is doing to our numbers right now. I'm including my video on the Condominium Market to provide the numbers for you at the end of January 2023 compared to January 2022. The numbers in the very beginning of the year lack enough data to give an accurate read on what is hapenning, but this year it's way out of line.
To find out how the Fee Simple market is doing in Poipu click here: Poipu Beach Fee Simple Current Market Analysis
For the Kiahuna Plantation click here: Kiahuna Plantation Current Market Analysis
Two Groups File Lawsuits Against DLNR For Kauai Electric Company
The two community groups Po'ai Wai Ola and Na Kia'i Kai have filed a lawsuit against the Department of Land and Natural Resources challenging their approval of a pumped storage hydroelectric system that KIUC wants to build.
Kauai's electric company is proposing to build the system on the Westside of Kauai and received a "FONSI" (Finding Of No Significant Impact) from the DLNR chair late last year which exempts them from doing an Environmental Impact Study. The two groups are challenging that decision, their attorney Elena Bryant stated: "At the most basic common sense level, our clients are concerned with — how can you say that this project won't have a significant impact on the environment?"
If this project goes through it will be the very first solar powered hydroelectric system ever.
KIUC stated: "KIUC began work on environmental, hydrology, engineering and cultural/archaeological/historic analyses for WKEP more than four years ago. Dozens of studies and surveys, including many commensurate with the requirements of an environmental impact statement, were completed, and no significant impacts were identified. Numerous avoidance, minimization and mitigation measures as recommended by federal and state agencies were identified in the final EA for incorporation into the construction and operation plans."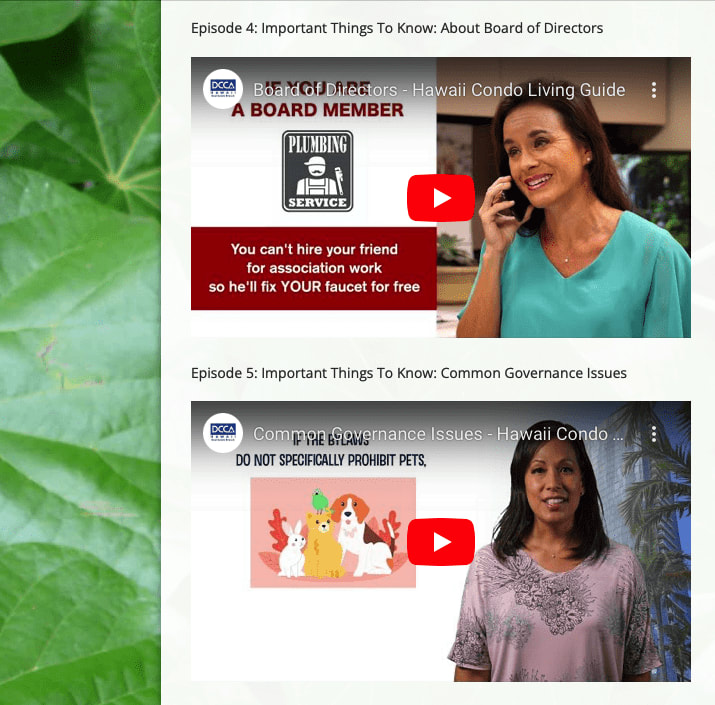 Resource For Condominium Owners
When buying a condominium Buyers are given information but it can be so much that it's easy to not remember something or get information that they were given mixed up. If this has happened to you don't feel bad because it's the case more often than not.
For that reason I was happy to see a new resource provided by the Hawaii Real Estate Commission, I was even happier after I visited the site. On it are 15 videos that are less than 5 minutes in length that cover topics like: "Budgeting And Reserve Funding", "Maintenance Fees & Special Assessments" and "About Dispute Resolution". I found the videos I watched to be well done, informative and they got right to the point. The information is presented in bite size pieces in an engaging manner.
If you own a condominium, or are interested in owning one, this is a great website to bookmark: https://cca.hawaii.gov/reb/hawaii-condo-living-guide/
Governor Josh Green's $50 Tourist Green Fee Scaled Back
Last year, when Josh Green was running for Governor he stated that he wanted to impose a $50.00 fee on every tourist that came to the islands, this money would go towards the impacts that tourists have against the environment. This was met with a huge amount of opposition from the tourism industry and lawmakers. The logistics of trying to collect this fee were challenging, for one you are not allowed to collect a fee like this at the airport.
The Governor has revamped the proposal to be a "Environmental License" to those wanting to visit state recreational sites much like the ones currently in place at Diamond Head on Oahu, Ke'e Beach on the North Shore of Kauai and Waianapanapa State Park on Maui. However, this proposal comes with a new set of challenges that at this time have no answer; how do you enforce this? How do you know that people who are at these sites have paid? Additionally, the Tax Foundation of Hawaii is arguing that this will violate the U.S. Constitution Privileges and Immunities Clause which prohibits States from discriminating against out of state citizens.
Stay tuned on this one.
Oahu, Maui and Big Island Real Estate Sales Year-To-Date 2023 vs 2022
Last week I gave an update on the Kauai real estate market comparing the end of Janaury 2022 vs 2023. This week we're looking at the other islands.
Homes and Condominium sales are down on all islands. The Median Price for homes is pretty much down across the board and the Median Price for a condominium is up on Kauai and the Big Island, down on Oahu and Maui.
With the rise in interest rates coupled with the amount of inventory being so low, the number of sales are dramatically down, in fact some of the numbers are just a shock. Over 69% decrease in the amount of homes sold on Kauai, 65%+ drop in the number of condominiums sold on Maui. While these numbers make it difficult to get a good read on what is happening it's clear that the rise in interest rates have slowed real estate sales.
This graph is from the Hawaii Association of Realtors. Let me know if you have any questions on how this relates to your particular area of interest.