Poipu Beach Real Estate Update- 2021 was kind to the Fee Simple market in Poipu Beach. At the end of 2020 there were a total of 170 properties sold and at the end of 2021 that shot up to 324.
For a current list of the activity since the first of the year click here: Poipu Beach Fee Simple Current Market Analysis
Kiahuna Plantation Real Estate Update- What a difference a year makes. The Kiahuna was the recipient of some good real estate news last year compared to the year before. In 2020 there were a total of 11 sales but by the end of 2021 that number skyrocketed up to 53. What is telling is only 4 of those 53 sales took place before tourism opened back up on April 5.
To get the latest news click here: Kiahuna Plantation Current Market Analysis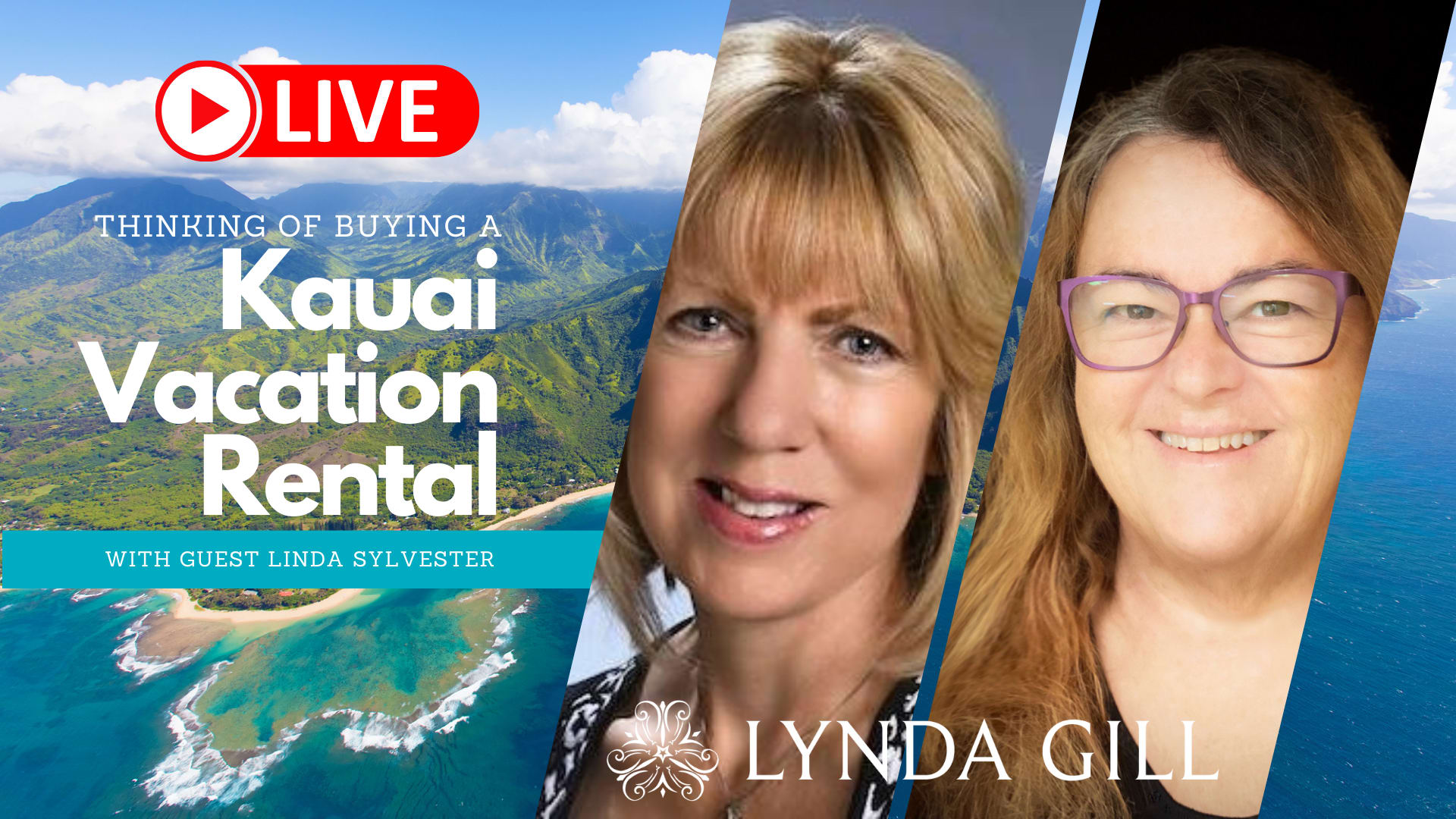 Talking Vacation Rentals With Linda Sylvester
Tomorrow, Wednesday January 5, I will be doing a Facebook Live with Linda Sylvester from Koloa Kai rentals. Linda worked for many years at Great Vacation Retreats before they sold to Vacasa. I've known Linda to be incredibly knowledgeable, honest and relatable. Join us on Facebook as we talk at 10 a.m. HST by clicking on this link: https://www.facebook.com/lyndagillkauairealtor
Rain!
For the last week there has been a stubborn storm that has been churning over the State and Kauai has been getting rain everyday for the last week. Statewide power outages, flash flood watches, downed trees and homes getting flooded have been daily occurrences. As of this writing, Monday Jan. 3, it's supposed to start drying out mid-week.
"Living Foods" In Poipu Restaurant Review
I was a big fan of the previous Living Foods restaurant which closed during the pandemic and then sold to new owners. On Sunday my hubby and I tried out the new restaurant.
The menu is not too different from what it had been before, the atmosphere the exact same. Very little was done to the décor except some "bar like" seating on the front edge of the restaurant allowing people to eat and drink while they are watching the traffic go by.
We were seated right away and our menus and water arrived soon after. Sorry to say it went downhill after that.
My husband had the Smoked Pork Cuban sandwich, he said had more bread than meat and was not even close to what they had offered before. I thought the sandwich looked tiny. I wanted the Kale, Beets And Blue salad by they were out so I opted for the Thai Beef Salad. The salad was small, the dressing was really good but I thought for the price it was not worth it.
The service was really bad and it pains me to say that but it's the truth. I was bullish on Living Foods reopening and so this was a real disappointment because I very much support our local businesses.
Kauai Real Estate 2021 Review
Happy 2022! The numbers are in for us to take a look at how 2021 did compared to 2020. Here are some highlights:
2020 Real Estate stopped March through May. Kauai Residential housing started taking off in June and it never looked back.
Vacation Rental Condominium market stopped in its tracks March 2020 and did not start coming back until April 2021 when tourism opened back up. This 13-month hiatus is reflected in the numbers
Kauai ended 2021 with the highest Median Price in the state at $1.1 million an increase of 35.80% over last year.
The only negative number is Poipu Beach condos but don't let that number fool you. It's skewed by the large number of Leasehold Kiahuna Plantation condos which are lower in price. There are currently only 3 fee simple condos under a million in Poipu Beach.
My 2022 Market Prediction: The Median Price for all categories will continue to go up and inventory will continue to shrink. The number of properties selling will decrease only because of a lack of inventory, the disrupted building material supply chain and lack of available labor for new construction.
Below is a graph that shows 2020 vs 2021 stats. This information is general in nature and might not reflect your particular area of interest. With this unprecedented real estate market it's imperative to get professional guidance before buying or selling.