Kauai Real Estate Update- Last week a Buyer of mine achieved her goal of buying her first home. She did all the right things: Got prequalified, focused on her target area, got educated on what her money will buy her and when she found the right property we got it. This is a "tiny house" 476 sq ft 1 bed. 1 bth. but on a huge level lot, almost 20,000 sq ft. Sold for full price $595,000 and it's located in the South Shore area of Lawai. To see the listing click here: Sold Koloa Road Home
For a complete update on what Sold, was just Listed and what went into Escrow last week on the island of Kauai click here: Kauai Real Estate Sales July 19 to 25, 2021
Poipu Beach Real Estate Update- For a complete list of all the fee simple real estate activity that has happened in Poipu Beach since January 1 of this year click here: Poipu Beach Current Market Analysis
Kiahuna Plantation Real Estate Update- Sold! A listing of mine at the Kiahuna Plantation, unit #404 sold for the full price of $134,000 (LH). This unit had AC, remodeled Kitchen and Bathroom, newer furniture and tiled floors throughout with carpeting in the bedroom. Located on the ground floor of building 40 it had over $29,000 in future bookings that were passed on to the new owner. See details by clicking here: Kiahuna 404
For a complete list of all the real estate activity since January 1 at this resort click here: Kiahuna Plantation Current Market Analsis


Lack Of Cars On Kauai, County Launches Website
The shortage of rental cars on Kauai is causing problems for many tourists that are coming back to Kauai. This problem we've been hearing is being worked on but will not be solved anytime soon. Certainly not soon enough for those that are wait hours at the airport for Taxis, Ubers and Lyfts.
The County of Kauai's Office of Economic Development launched a new website to help those people. GetAroundKauai.com was implemented to help visitors navigate Kauai without a rental car. Alternative modes of transportation include ride share, bike rentals, airport shuttles etc. Walking guides are included as well as Kauai Bus information.
I found the website easy to navigate and a great resource to pass along to those that you might be renting your second home to.
Access this site by clicking on this link: GetAroundKauai.com
Kauai Tourboat Operator Jumps On Shark
This real life story is right out of a James Bond movie! A tour company was doing a snorkeling tour off the Napali Coast when one of the tourists on the boat noticed a 5 to 6 foot shark circling a large group of snorkelers. He alerted one of the operators who saw the shark swim over to a woman who was snorkeling off by herself. The woman got scared and started swimming toward the boat. The shark speed up and darted towards the woman and that's when the employee of the tour boat company jumped into the water on top of the shark. This started the shark who swam away, the woman was unharmed.
Shark attacks are very rare, the state's Department of Land and Natural Resources report 3 to 4 incidents per year on average. That makes your odds less than one in a million. That being said, it's always a good idea not to be in the water alone.
How COVID Changed Buyers Tastes In Homes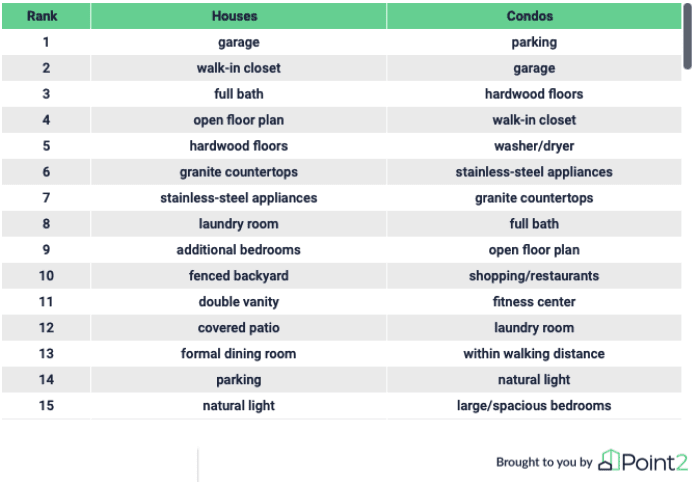 In 2019 the most popular search terms buyers used for homes were #1 Granite Countertops, #2 Hardwood Floors and #2 Stainless Steel Appliances. In 2021 Garage, Walk-in Closet, Full Bath. The former top three still made the list but just a bit lower. With more people transitioning to working from home buyers, are more focused on space in their home searches.
Home office came in at #44 in 2021 and in 2019 it didn't even make the list.
For condominiums the top three search words were #1 Parking, #2 Garage and #3 Hardwood Floors. Other interesting terms for condos were #5 "Washer/Dryer" and #10 Shopping/Restaurants
National Real Estate Statistics
According to the National Association of Realtors chief economist, Lawrence Yun, supply for homes "modestly improved" at the end of June however the number of homes sold is still on the rise from the end of June 2020 to the end of June 2021. The NAR Key Highlights for the Home Market are:
Existing-home sales rose 1.4% on a seasonally adjusted annual rate from May to June, with no region showing a sales decline.
The inventory of unsold homes increased 3.3% to 1.25 million from May to June – equivalent to 2.6 months of the monthly sales pace.
The median existing-home sales price rose at a year-over-year pace of 23.4%, the second highest level recorded since January 1999. Homes on the market typically sold in 17 days.
Condominium Median Price is now $311,600 which is 19.1% higher than June of 2020.
Where are people buying? Here is the breakdown of the sales at the end of June 2021 compared to June of 2020 from the highest to the lowest:
Northeast: Number of sales up 45.1 from last year. Median Price is up 23.6% at $412,800
West- Number of sales is up 23.7% from 2020, Median Price up at $507,000 a 17.6% increase.
South: Number of sales up 19.4% and the Median Price is $311,600 which is 21.4% increase.
Midwest: Number of homes sold was up 18.8%. Median Price 18.5% increase to $278,700