Kauai Real Estate Update- For a complete list of the real estate activity island wide for last week on Kauai click here; Kauai Real Estate Update December 12 to 18, 2022
Poipu Beach Real Estate- Available for the first time in 45 years. 201A Poipu Shores on Kauai has been lovingly cared for by the same owner for over four decades. 201A is a corner unit that takes ocean views to a whole new level. Marvel at both sunrise and sunset views from the lanai of this 2 bedroom, 2 bath residence. From the master suite, you can fall asleep to the sound of ocean waves and awake to views of the sparkling Pacific every morning. What I love about this unit is the no stair entry, single level floor plan and the views from the living room and bedroom. Enjoy the video and let me know if you have any questions.
Poipu Beach Real Estate click here: Poipu Beach Fee Simple Current Market Analysis
For the Kiahuna Plantation click here: Kiahuna Plantation Current Market Analysis
Plane Crash At Lihue Airport, Single Engine, 2 Injured
Last week two people were injured in a single engine crash at Lihue Airport which happened when the plane lost power shortly after take off. The crash was attributed to "plane failure".
Both of the people on board were taken to Wilcox and both are in severe but stable condition.
36 Injured on Hawaiian Airlines Flight from Phoenix to Honolulu
A large storm that came in on Sunday and continued through Monday has been wreaking havoc across the island chain. This storm was attributed to the extreme turbulence that injured 36 people on a flight to Honolulu from Phoenix on Sunday morning. The flight was full with 278 passengers and 10 crew members.
The Airbus 330 was 30 minutes from landing and the seat belt sign was on when the plane hit an unexpected "air pocket" which caused severe and violent turbulence lasting for 1 minute. The turbulence literally sent people flying out of their seats and hitting themselves on the ceiling of the plane. Overhead compartments opened and hand-held objects went flying around causing further injuries.
These "air pockets" can come without any warning which is the reason they like to have you fasten your seat belt at all times, you just don't know when they can hit.
The plane landed safely a bit before 11 a.m. and around 13 people were taken to various Honolulu hospital emergency rooms, 3 of those were crew members.
Maui Plane Disappears, Officials Still Looking
A medical transportation service known as "Hawaii Life Flight" went missing off the radar on December 15 after leaving Maui. It was on it's way to go pick up a passenger, the three people on board were the pilot and two
Hawaii Life Flight medically transports 10 to 15 patients a day. After the flight on the 15th went missing all of their aircraft were grounded and State Officials got help from other states to keep the service going while they investigate.
A debris field about 16 miles south of Hana was identified and it being investigated, the area is believed to be at the point where the plane lost contact.
Kauai Woman Oldest To Complete Honolulu Marathon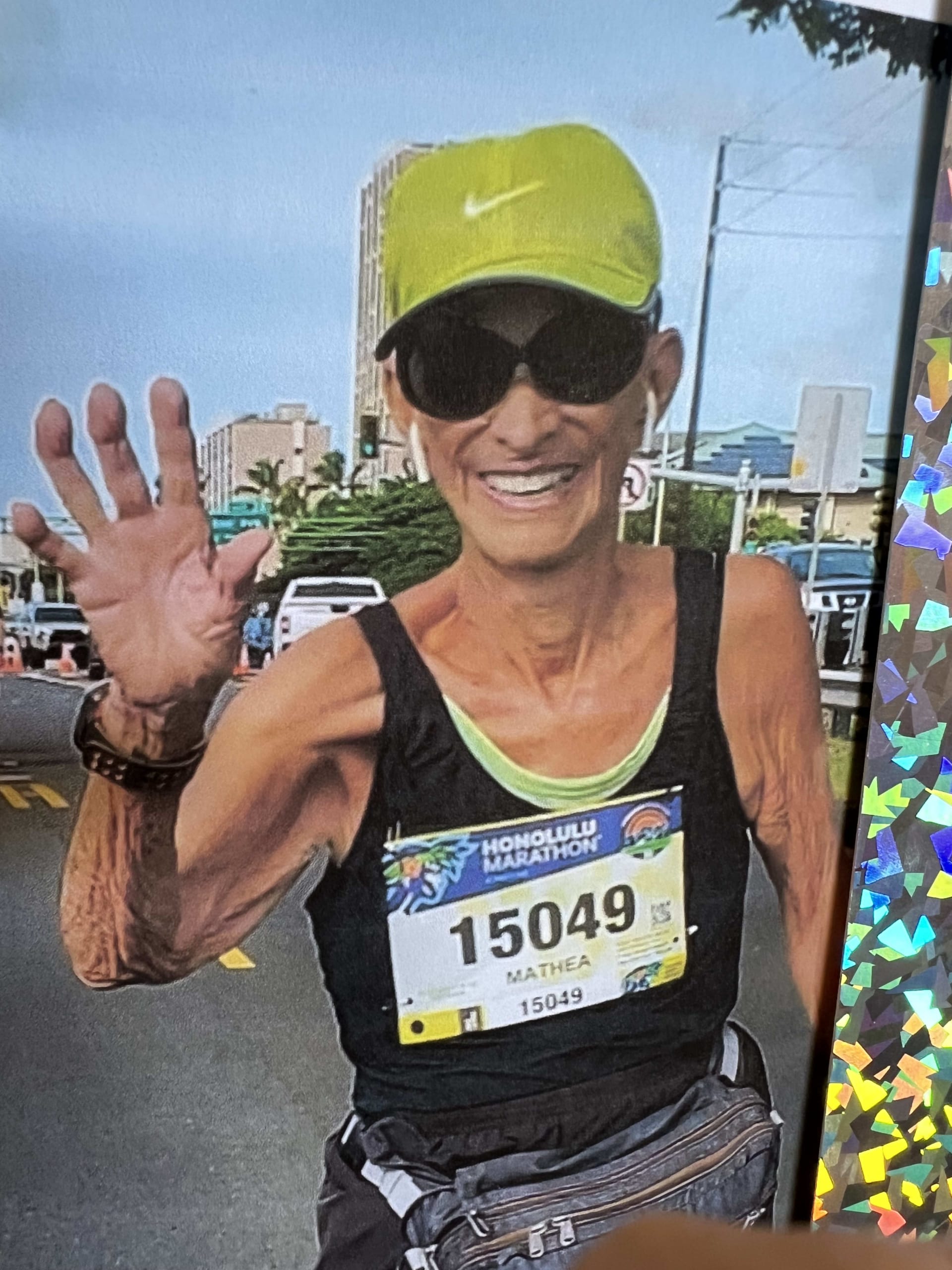 I've personally known Mathea Allensmith since my first visit here to Kauai in 1992. She lives here in Poipu Beach and over the last 30 years she's become a very dear friend. Mathea is 92 years old and completed the 26.2 mile Honolulu Marathon on December 10, 2022 in 11 hours, 19 minutes and 49 seconds.
Because she is my friend, I'm not surprised that she set out to do this, but she sure surprised a lot of other people. She's been doing various marathons for years however as she gets older it's becoming more challenging. For this marathon she trained for 17 weeks which involved a strict diet and walking every day sometimes up to 20 miles. Due to the hot weather she'd sometimes get up at 2 in the morning for her walk in order to beat the heat and not miss her training.
She also trained spiritually and said: "A marathon is a spiritual experience for me. I have to train my body for sure, but it's all about getting my mind to enjoy and soak up the experience while it's happening."
When I was talking to her about the marathon she told me: "The race was easy. The training was hard."