Kauai Real Estate- For a complete list of what was Just Listed, Sold and went Under Contract last week on the island of Kauai click here: Kauai Real Estate January 24 to 30, 2022
Poipu Beach Real Estate- I Just Listed Waikomo Streams #302. This is a ground floor unit and it won't last long, it's the only 1 bedroom fee simple unit in Poipu that is on the market! Super clean with a great location.
For the latest news on the fee simple Poipu Beach real estate market since the beginning of the year click here: Poipu Beach Fee Simple Current Market Analysis


Kiahuna Plantation Real Estate Update- Sold! Last week Kiahuna Plantation #9 sold for the full list price of $650,000 (LH). The views from this top floor 1 bed 1 bath in building 3 are gorgeous and this particular unit has four oversized floor to ceiling louvers on the side wall.
I just listed unit #56 which is a ground floor corner unit located in building 11 for $245,000 (LH). It has a very private feel to it and of course those great louvered windows on the side wall. If you'd like more information click here: Kiahuna Plantation #56
For a complete list of all the real estate activity at Kiahuna since the beginning of this year click here: Kiahuna Plantation Current Market Analysis
Is A Housing Crash Coming?
I'll sometimes hear that Buyers believe there is going to be a big price correction in the market and that they will wait to buy until that happens, but I'm not so sure. I, for one, have not been through a real estate market that has had a pandemic as a driver so I hesitate to speak in absolutes. But here is what I do know:
1) New Home Construction Fell Behind For Several Years- It's all about supply and demand, that is a basic function of real estate pricing. It's the buyers demand and what they are willing to pay that drives the pricing. The graph below shows new home construction for single-family homes over the past five decades, including the long-term average for housing units completed. Builders exceeded that average during the housing bubble (shown in red on the graph). The result was an oversupply of homes on the market, so home values declined. That was one of the factors that led to the housing crash back in 2008.
Since then, the level of new home construction has fallen off. For the last 13 straight years, builders haven't been able to construct enough homes to meet the historical average (as illustrated in green on the graph). That underbuilding left us with a multi-year inventory deficit going into the pandemic.
2) Add In The Pandemic- Having a safe space to live, work, school, and exercise became even more important for Americans throughout the country. So, as mortgage rates dropped to at or below 3%, buyers eagerly entered the market looking to capitalize on those low rates to secure a home that would fulfill their changing needs. At the same time, sellers hesitated to put their houses on the market as concerns about the pandemic mounted.
The result? The number of homes available for sale dropped even further. A recent article from realtor.com: "Last month, the number of home listings dropped 26.8% compared with the same time a year earlier. This meant there were about 177,000 fewer homes listed in what's already typically a slower month due to the holidays and colder weather."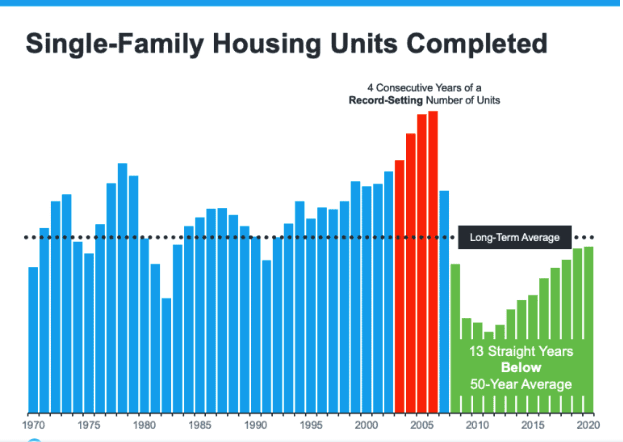 Information and graph partially provided by Keeping Current Matters
Kauai Real Estate Year To Date 2022 vs 2021
At the end of January last year the housing market had been on an upward trajectory fueled by the pandemic so we can really compare apples to apples with this data. Condominium numbers not so much as a year ago Kauai had not opened up yet to tourism, that wouldn't come until April.
The numbers are misleading, a couple of key points here:
Is lack of housing now starting to show up in our numbers? It appears so
2021 the ratio of the Listed Price to the Sold Price was 96.5%
2021 57 homes sold in January
2022 the ratio of the Listed Price to the Sold Price is 109.8%
2022 48 home sold in January
Let me know if you have any questions on your particular area of interest. These numbers are general in nature and might not reflect your particular area of interest.