Kauai Real Estate Update- For a list of what Sold, was Just Listed and what went into Escrow last week on the island of Kauai click here: Kauai Real Estate Activity May 23 to 29, 2022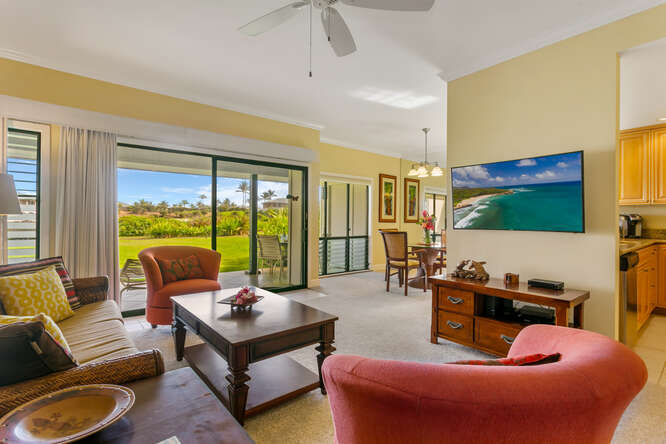 Poipu Beach Real Estate Update- I'll soon be listing a really special ocean view condominium in Poipu. This unit has been renovated and has a really unique floor plan, easy to see why it's such a successful vacation rental. Contact me if you would like some more information.
To find out what has been happening with our fee simple market in Poipu Beach click here: Poipu Beach Current Market Analysis
For the Kiahuna Plantation click here: Kiahuna Plantation Current Market Analysis.
7 Snorkelers Rescued Off Lawai Beach
Last Friday some people that had taken a guided snorkel tour with one of the local companies ran into some rough waters and were nearly pulled out to sea. The south shore has been getting some high surf with wave faces anywhere from 5 to 7 feet.
Around 10 a.m. the Fire Department was notified of 7 snorkelers that were in distress at Lawai Beach. They were being pulled out to sea towards Acid Drops and when the Ocean Safety crew arrived there was one surfer that was trying to assist. All of the snorkelers were responsive but had said that they were not able to make it back to shore on their own.
Former Kauai Council Member Sentenced
A former Kauai Council Member was given a 20 year prison sentence with no possibility of parole for his role in running a drug trafficking ring and an assault on a police officer.
In 2020 Arthur Brun was serving as a Vice Chair of the Kauai Council's Public Safety and Human Services committee. He, along with 11 other individuals, were indicted for several felonies which included drug trafficking, firearm violations and witness tampering. In 2019 he was stopped by the Kauai Police who found a pound of meth in his car, he would not exit the vehicle and instead took off which the officer's arm was inside the car in an attempt to remove the keys.
Initially Brun was given 15 years in a plea bargain but the judge changed it to 20 years with no parole.
Wilcox Opens Renovated $5.1 Million Dollar Emergency Room
Since October of 2020, Wilcox Emergency Department has been undergoing a massive renovation. This work done is largely due to funds that have been donated by the Public, Mark Zuckerberg and his wife Dr. Priscilla Chan, members of the Wilcox family, various businesses, physicians and staff.
The Emergency room renovations includ two new trauma suites and all patient rooms are now private. Patients with infectious diseases can be treated separately in one of 3 rooms that are available.
Wilcox Hospital is the only hospital in the state of Hawaii that has a American College of Surgeons verified Levell III Trauma Center. This is of huge importance for our island which has a very high level of outdoor activities. Combine a highly active amount of residents and tourists with our one lane highways has most of the emergency room visits being accident related. The sooner the patient can be treated the higher the survival rate.
South Shore Highway Closure Causing Major Delays
If you live here then you know about last weeks south side lane closures that have been wreaking havoc for anyone traveling on the south side of the island. If you are visiting, or have a vacation rental over here, you might want to make note that it will be the same for this week.
From 8:30 to 1:30, Kaumualii Highway from Omao to Puhi will be down to one lane for landscaping. The traffic will be really backed up so plan ahead.
If you, or any of your guests are traveling over here, a good site to check is the Hawaii Department of Transportation. If the highway is down to one lane the best plan is to get through the section before they start the work and plan to come back after they are done.
Here is the website specific to Kauai: https://hidot.hawaii.gov/highways/roadwork/kauai/