Kauai Real Estate Update- Last week our Kauai Median Home Price hit a new high at $1,165,000. I'm seeing Buyer activity picking up and I believe that will get even stronger in the second home market (resort areas) as we head into next year. The sold prices and days on market are jumpy and not following regular trends as Buyers and Sellers work towards our new normal. The standoff seems to have abated somewhat as Buyers realize that this is not the crash of 2008 and Sellers adjust to a lower paced increase in prices.
For a complete list of what Sold, was Just Listed and what went into escrow last week on the island of Kauai click here: Kauai Real Estate Update December 19 to 25, 2022.
Poipu Beach Real Estate Update- For a complete list of the fee simple real estate activity that has happened in Poipu since January 1 of this year click here: Poipu Beach Fee Simple Current Market Analysis
Kiahuna Plantation Real Estate Update- later this week I'll be listing one of the best placed ocean view units at the Kiahuna Plantation. Photos and videos will be done soon and if you want to see this listing when it comes out let me know by emailing me at [email protected] and I'll email the listing to you. For a complete list of the real estate activity at the Kiahuna Plantation since January 1 of this year click here: Kiahuna Plantation Current Market Analysis
National Real Estate Sales Year To Date November 2022 vs 2021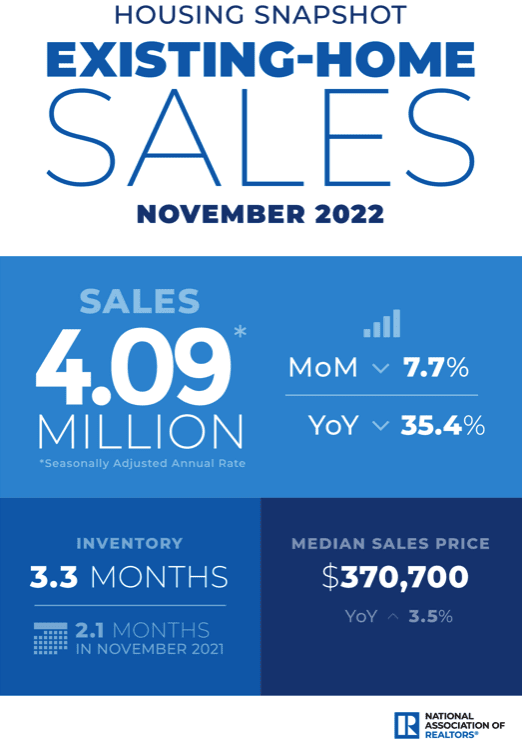 Lawrence Yun, the Chief Economist for the National Association of Realtors, recently posted the National real estate statistics. Here are the key takeaways:
The number of sales is down both Year Over Year ( -35.5% ) and Month Over Month ( 7.7% ). The Median Sales price is now $370,700 which is a 3.5% increase from the end of November in 2021.
On a national level we have 3.3 months of inventory which is up from 2.1 in November of last year.
Kauai Leads State In November Hotel Occupancy
Throughout Hawaii hotels had an average of 70.5% occupancy which is down 8.6% from November in 2019 when it was 79.1%. Kauai had the highest occupancy at 75% which is what they had in November, 2019.
However the ADR (Average Daily Rate) is up 32% from November of 2019 at $345.00.
Kauai had an ADR of $364
Big Island of Hawaii $372
Oahu was at $266
Maui had the highest ADR at $568
Best Roundabout!
How cool is this? Being greeted with a "Shaka" at the gateway to Poipu, Omao, Lawai and Koloa?? We looked a little funny when I had my hubby drive as I shot this video from the backseat of my car but I really wanted to get the a live action video of the improved roundabout at the intersection of Koloa Road and the Ala Kalanikaumaka bypass road ( Ala Kalanikaumaka is the street that the Shops at Kukui'ula are on ).
On the side walls it has the four areas that the roundabout exits. I LOVE this!!