Kauai Real Estate Update- The cute little townhome that I listed last week got a huge amount of activity which was what I had anticipated. For that reason I had all offers due by Thursday at noon, this allowed everyone interested to put their best foot forward on a level playing field. This strategy is a good one but it needs to be used correctly. We received multiple offers and it's now under contract for over the asking price and we have a back up offer on it as well.
For a complete list of all the real estate activity on the island for last week including what was just listed, what Sold and those properties that went under contract click here: Kauai Real Estate Update September 27 to October 3, 2021.
Poipu Beach Real Estate Update- For a complete list of all the Fee Simple real estate activity that has happened here in Poipu since January 1 of this year click here: Poipu Beach Current Market Analysis
Kiahuna Plantation Real Estate Update- What has been happening at the Kiahuna since Janaury 1 of this year? Click here to find out: Kiahuna Plantation Current Market Analysis
Hawaii Extends Current Mask Mandate and Travel Restrictions
The existing rules for our states Mask Mandate and the Travel Restrictions are being extended to November 30, 2021. There are no new rules, just the existing ones are being extended. Governor Ige extended them due to the high case counts but it was also noted that the number of new cases and hospitalizations are trending downward.
Per the proclamation, passengers arriving to the Islands must continue to adhere to the Safe Travels program, which requires travelers to show proof of vaccination or a negative Covid test in order to bypass quarantine. The continued mask mandate requires people to wear masks while indoors in public settings.
Our state is at 68.2% of the population fully vaccinated. Oahu has the highest number at 70%, Kauai second at 65%, Big Island has 64% and Maui is at 61%.
Car Crashes Through Sueokas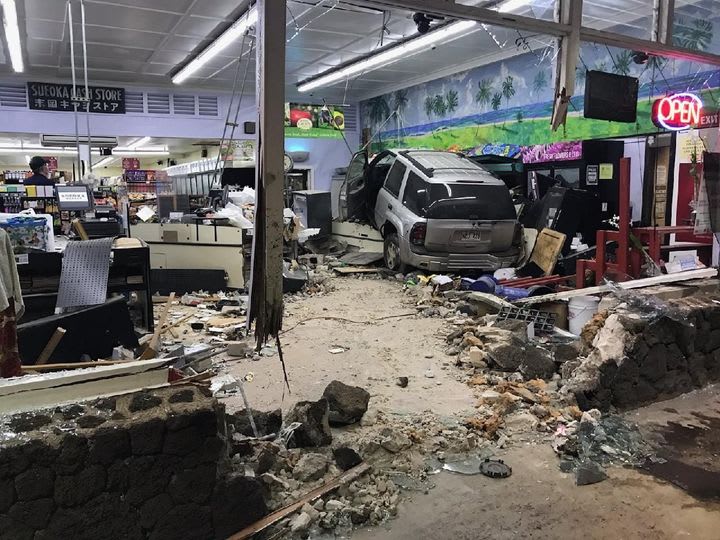 A car crashed through Sueokas here in Poipu Beach, the cause of the crash is still under investigation. No one was reported being hurt.
Kauai Real Estate Year-To-Date Sept. 2020 vs 2021
October is here and we can look at the last nine months of sales for the island of Kauai and see where we are at compared to the same time last year. Interesting to note that every category, except for one, is up. Here are some highlights:
The condominium market has officially woken up!The number of sales and prices are up.
Prices for condominiums are down slightly in Poipu due to the Kiahuna Plantation Leasehold sales.
North Shore leads the way with home prices, up 42% from last year.Median Price is now $1.8 million
South Shore not far behind percentage wise at 38% increase.Median Price for a home is now $1.149 million.
Land Sale and the Median Price are up across the board.
The graph below is general in nature and might not accurately reflect your particular area of interest. Give me a call to discuss the value of your property or your particular area of interest to purchase real estate.