Kauai Real Estate- "Sold Before List!" this is an emerging trend on Kauai. The real estate market is not the MLS, it's all the properties on the island and in a hyper active market like this some Sellers opt to not list their property publicly. Here's how it works: the Seller signs a listing contract with an Addendum to keep the property off the MLS. The agent then networks with their clients and/or other agents and sells it before it hits the market. Possibly the ball got rolling with the agent having a buyer and that is the initial approach with the Seller.
Why would a Seller do this? They might not want their home photographed or have a lot of people through, they have their price that they are happy with and if they can get that price then they will sell.
I have sold a number of properties this was and this approach really works for some people. However I always let my Sellers know that the risk they run with this approach is not having more eyes on their property which, in this market, can translate to multiple offers and possibly more money or better terms for the sale.
Last week there were 28 properties that came on the market. Four of them, including a $12 million dollar sale, sold before being listed. Five properties are under contract within 5 days of being on the market.
For a complete list click here: Kauai Real Estate Sales March 14 to 20, 2022
Poipu Beach Real Estate Update: For a complete list of all the fee simple activity in Poipu Beach since the beginning of the year click here: Fee Simple Poipu Beach Real Estate Update
Kiahuna Plantation Real Estate Update: For all the real estate activity at the Kiahuna Plantation since the beginning of this year click here: Kiahuna Plantation Current Market Analysis
Facebook Founder Donates $10 Million For Kauai Medical Program
Mark Zuckerberg and his wife, Dr. Priscilla Chan have donated $10 million the John A. Burns School of Medicine (JABSOM) located at the University of Hawaii in Manoa. These funds will be used to train six medical students that have ties to Kauai or another neighbor island. The program will fund tuition and transportation for four years, training will be focused on rural medicine.
The $10 million donation will also enable JABSOM to develop a faculty base, offer rural residencies for future physicians, add 21 residents to Kauai annually, and hire a director for interdisciplinary training and simulation, among other positions.
Luxury Living At Timbers, Kauai

I had the opportunity to stay at a 3 Bedroom 3.5 bath oceanfront Villa at Timbers Kauai which is located on the coastline in Lihue. To get there you drive towards the Lihue Marriott and just keep going, the signage to get there is pretty low key. Since 1999, Timbers Resorts has established a portfolio of properties in the world's most sought-after destinations such as Aspen, 5th & 55th in New York, Cabo San Lucas and Italy. In Hawaii there are two; The Residences at Kapalua Bay in Maui and Hokuala here on Kauai.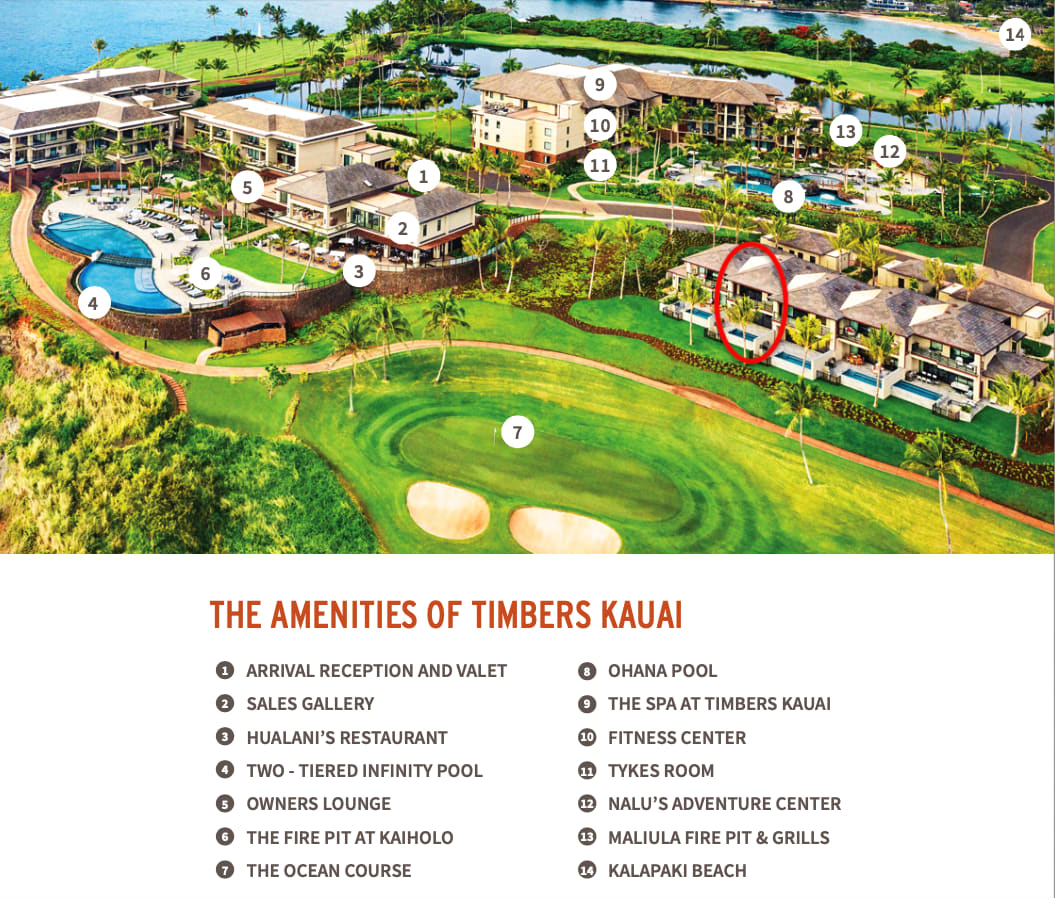 There are two types of ownership at Timbers: Fractional and Whole Ownership.
The Laola Townhome we stayed at is whole ownership and can be used as a vacation rental. Luxurious, private and perched above the oceanfront green of the 15th hole, the Lāola townhomes are the largest residences at Timbers. The expansive ceilings are paired with rich, warm decor and the space is immediately embracing. Breathtaking views span from the Ninini Point Lighthouse to the Ha'pu mountains, and premium amenities include private plunge pools and outdoor showers. Lāola is the pinnacle of luxury island living, with 3-4 bedrooms, 3.5 baths and over 1,000 square feet of lanai space. I'm including a map which shows where our 3 bedroom Villa is located. We took a couple of our friends to enjoy the weekend with us and we never left the property, the car sat in the garage the whole time. We did walk down to the Marriott for dinner at Dukes one night, one other night we ate at Hualani's which is on site. Excellent food and I've since been back for lunch, highly recommend it.
Our Villa had its own private pool but we also enjoyed the infinity pool which is at the main entry area. I loved their gym and did a couple of workouts there, it was well equipped. You can rent kayaks and stand up paddle boards and cruise around the lagoons.
The townhomes start around $5 million and currently there is 1 on the market. They are building a second phase of these Laola Nani Townhomes which will be similar to the one we stayed in however Phase II will have their own infinity pool and disappearing glass walls.
Fractional Ownership is in the Maliula and Kaiholo Residences which are condominiums, pricing starts at $445,000 for three weeks. There are no vacation rentals in the condominiums, these are all owners only.
There is additional inventory and a couple of other projects that will be coming online soon. You are welcome to contact me directly for more information.