Kauai Real Estate- I just listed an absolutely adorable Townhome in Kalaheo. With the addition of French doors installed on the graciously sized bonus room this 2-bedroom townhome now has 3 definitive rooms. The floor plan is ideal for those who wish to have their main living area on the first floor which consists of the primary bedroom with a walk-in closet, bathroom, kitchen, living room, separate tv area, laundry/pantry room and direct access to the backyard. It's very rare to find a property like this in this price point. For more information click here: Just Listed Kalaheo Townhome
For a complete list of all the real estate activity on Kauai for the last week including those properties that are Just Listed, Sold or went into escrow click here: Kauai Real Estate Update September 20 to 26, 2021
Poipu Beach Real Estate Update- The Poipu Beach Fee Simple market continues on it's hot streak. At this time there is only 1 fee simple condominium and 1 home under $1 million. The home that is available is $997,750 and you cannot vacation rent this home. For a complete update on the real estate activity in Poipu Beach since January 1 of this year click here: Poipu Beach Fee Simple Current Market Analysis


Kiahuna Plantation Real Estate Update- For a complete list of all the real estate activity at the Kiahuna Plantation since January 1 of this year click here: Kiahuna Plantation Current Market Analysis
Hawaii's COVID Numbers Trending Downward
This was a nice headline to see; our numbers are trending downward. The University of Hawaii's Pandemic Applied Modeling Work Group (HiPAM) said there are several reasons why the numbers have gone down; vaccination rates are up, more testing is being done and there were some restrictions that had been put in place (limitation on indoor/outdoor gatherings, Safe Travels Oahu etc.)
On August 1 our State was at 60.1% fully vaccinated and as of September 25th we're at 67.2%. The projection is the number of vaccinations will continue to go up and we'll have 20% less cases by October.
The graph below is for the dates of September 10 to the 23rd.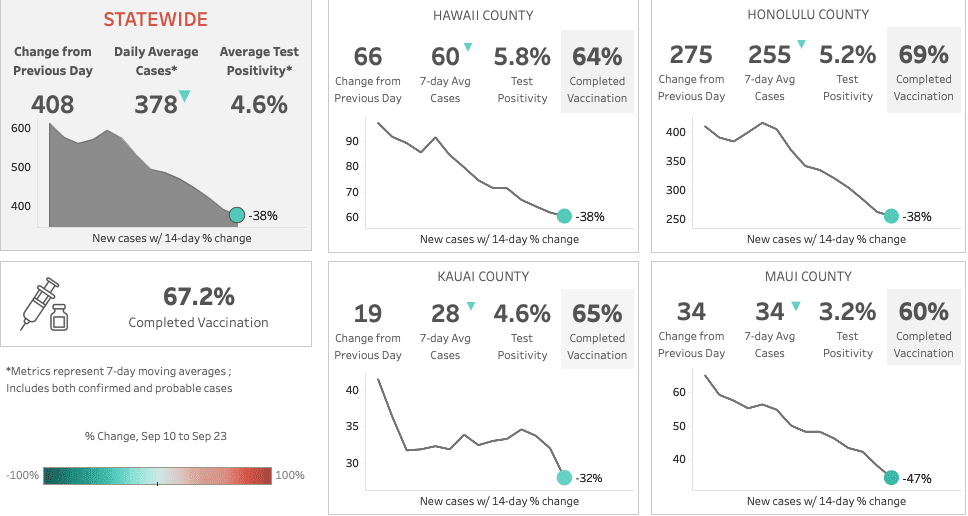 Lynda Gill Doing Facebook Live on Lending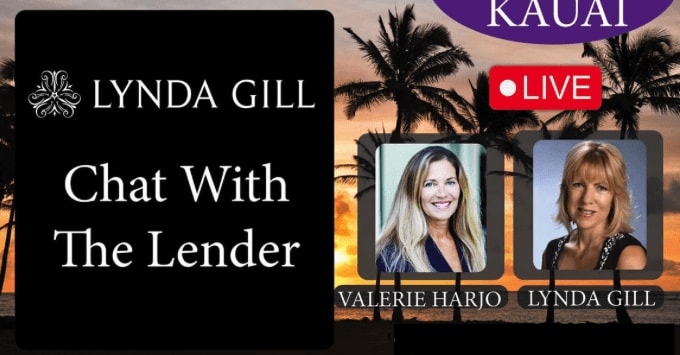 I'm super excited to announce that I'll be speaking LIVE on Facebook with Valerie Harjo who is a very knowledgeable lender here on Kauai with over 20 years of lending experience. For those that are looking to buy a vacation rental or a second home in Kauai, learn what the requirements are, what it takes to pre-qualify, and details that will help you with choosing the right property type.
We'll be speaking at 9 a.m. Hawaii time which is 12:00 Pacific Time this Thursday, September 30th.
To join us here is the link: https://www.facebook.com/lyndagillkauairealtor/posts/896161427946067
Hawaiian Airlines Attendant Punched By Passenger
Last Thursday, on a Hawaiian Airlines flight from Honolulu to Hilo, a passenger punched a flight attendant for reasons completely unknown. The plane turned around after just 15 minutes in the air.
The incident is not mask related and is really a bit of a mystery. In watching the reporting on our news it seems for no reason the man stood in front of the attendant and punched him in the chest, the attendant said he thought it was a joke and didn't have any idea on what what happening. Then the 32 year old man hit him again. Three passengers jumped up to intervene and the man then sat calmly in his seat until the plane landed and the Honolulu Police escorted him off the plane. Hawaiian Airlines said "The incident was unprovoked, un-triggered, and not mask-related."
Hawaii Ironman Annual Iron Man Move To Utah
The Ironman World Championship started in 1978 in Oahu, moved to the Big Island in the 1981 and the only year it's not been held was 2020. This year they have decided to continue to event but hold it in St. George, Utah due to the number of cases the Big Island has.
On the Ironman website they state: "As the impact of Covid-19 persists on the Island of Hawaii, resources remain stretched, and we lack confidence that the Big Island will be ready for us by early next year. As a result, our gracious hosts in St. George, Utah, have risen to the occasion to hold the 2021 edition. The Land of Endurance will mix the striking and austere landscapes of the desert to create a one-of-a-kind World Championship experience."