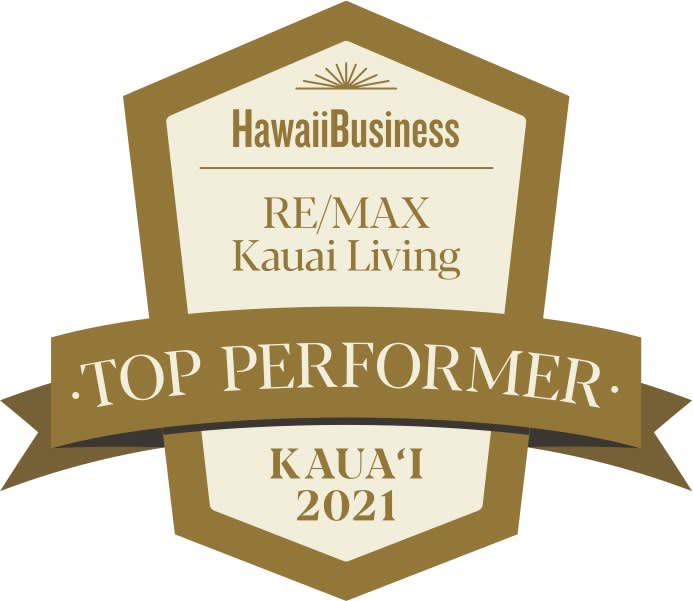 Kauai Real Estate Update- Recently I was awarded the Top Performer award from Hawaii Business. It's a genuine honor for me to be chosen by my clients for what is bound to be one of the most significant moment of their lives. I am very thankful to my clients both past and present. Mahalo Nui Loa!
For a complete list of all the real estate activity on the island of Kauai for last week, including what Sold, was Just Listed and what went into Escrow click here: Kauai Real Estate June 14 to 20, 2021
Poipu Beach Real Estate- I just listed the sweetest condominium at Poipu Sands. The owners care and attention to detail is evident throughout this ground floor Ocean View unit. This popular vacation rental is getting a lot of attention and you can see more details on this unit by clicking here: Poipu Sands 215 Listed At $695,000 (FS).
For a complete list of all the Fee Simple Poipu Beach Real Estate activity since the beginning of this year click here: Poipu Beach Current Market Analysis


Kiahuna Plantation Real Estate- In Escrow! I brought in the Buyer on a listing of mine at the Kiahuna. Unit #96 is on the top floor of building 16 and has really nice horizon ocean views. I also Just Listed an Ocean View renovated ground floor corner unit in building 6. Unit #24 has 4 floor to ceiling louvered windows and is a short stroll to the beach that the Kiahuna is on. Gorgeous remodel with a fabulous location. To see year to date real estate information click here: Kiahuna Plantation Current Market Analysis
Kauai National Guard Scaled Down
Another sign that things are turning around is the departure of the Hawaii National Guard. At the start of the pandemic, which was March 2020, Kauai saw a huge increase in the presense of the National Guard at both the airport and around the island. They were primarily responsible for making sure that those in quarantine were home when they did their checks and for helping with screening arriving passengers at the airport.
Since March of 2020 they have screened 203,798 passengers, conducted 92,324 quarantine compliance checks, taken 12,837 phone calls and have given 4,417 vaccine doses at various vaccination centers.
We now have 20 National Guards on island that are Kauai residents.


New Transportation Option For Kauai
An established tour bus company has pivoted to offer "hop on, hop off" service between Poipu-Koloa and Koloa-Kapaa. After seeing the shortage of rental cars and the struggle for tourists to get around the island the company came up with two new routes. Transportation and tour company Polynesian Adventure Tours has launched a new "hop on, hop off" shuttle service on Kauai.
Here's how it works: Go to their website and click on the route you'd like and book it for your desired date and time.
As with everything now on Kauai, advance reservations are highly recommended. Here is the site: Poipu/Koloa & Koloa/Kapaa Shuttle Service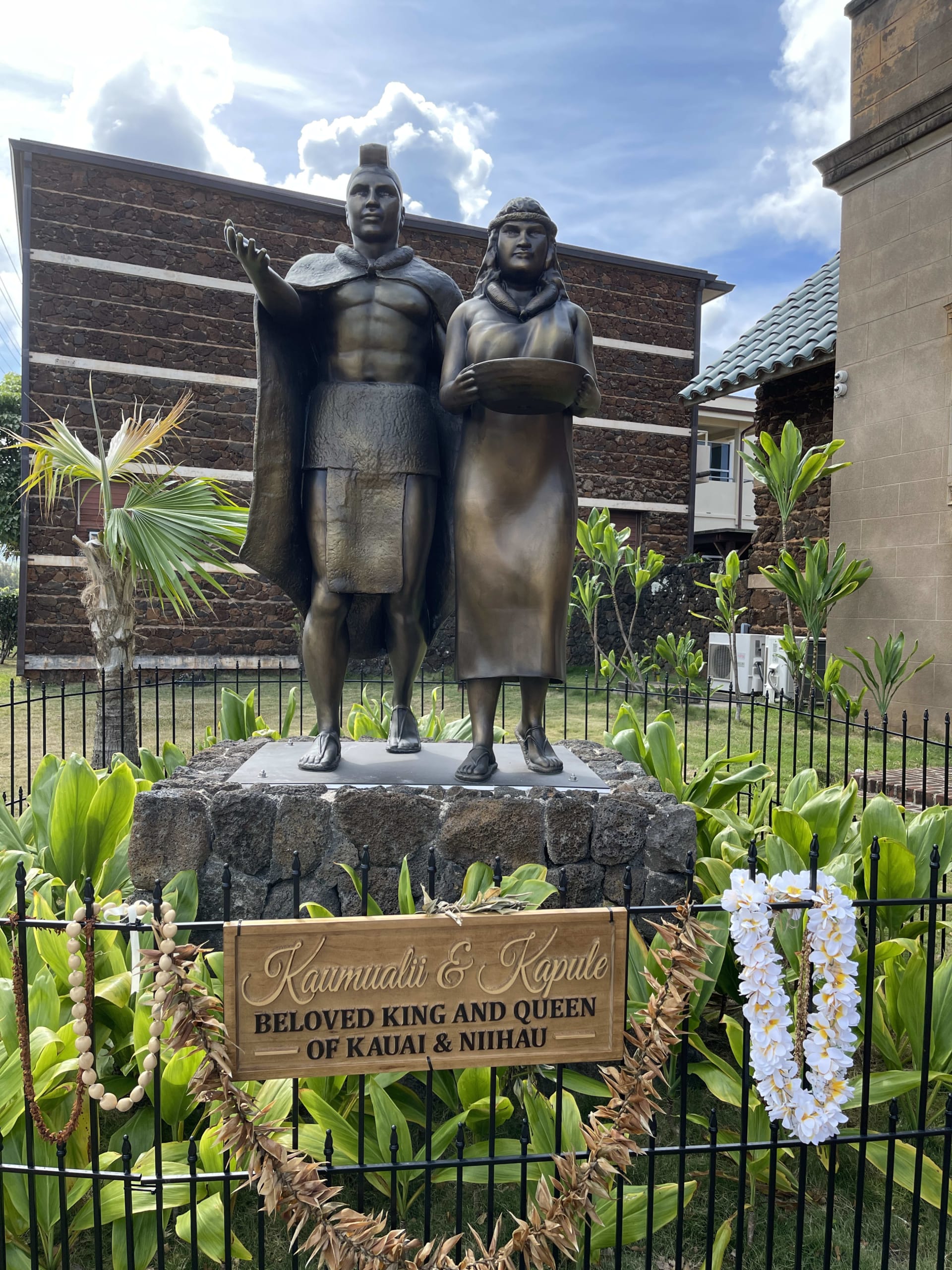 Statue of King Kaumuali'i and Queen Kapule, Kauai Museum
A new statue has been added in front of the Kauai Museum which is located on Rice Street in Lihue. King Kaumuali'i was the last independent King of Kauai before King Kamehameha unified the islands under his rule in 1810. Queen Kapule was the favorite wife of King Kaumuali'i and is recognized as the last reigning Queen.
Kauai was the last island to be unified under King Kamehameha and Kauai's King Kaumuali'i negotiated a peaceful agreement between the two of them rather than resort to a third battle.
I found a description of King Kaumuali'i by Captain George Vancouver who said he was handsome, likeable, and courteous, as well as a capable leader. Queen Kapule was said to be very popular and a huge influence among the people of Kauai. After the death of her husband she had an intense period of grief but was said to have come out of that towards the end of her life. She spent that last part of her years in Wailua.