Kauai Real Estate Update- Last week was a fairly quiet one for Kauai Real Estate which is more typical for this time of year, I'm seeing we're getting back to our seasonal markets. Interest rates crossed the 7% mark for a 30 year fixed mortgage forcing some buyers to lower their price parameters. For a complete list of the real estate activity on the island of Kauai for last week click here: Kauai Real Estate Activity October 24 to 30, 2022
Poipu Beach Real Estate Update- Poipu Sands 424 Sold at full asking price. Renovated, Priced Correctly, Ocean Views, Superior Marketing. All of these components came together to achieve a full priced offer within 3 days of being on the market. This single level floor plan has an oversized lanai with huge ocean views. For a complete list of all the fee simple real estate activity in Poipu Since January of this year click here: Poipu Beach Fee Simple Current Market Analysis
For the Kiahuna click here: Kiahuna Plantation Current Market Analysis
Community Looking To Purchase Coco Palms
While the current owners of the Coco Palms battle to move the renovation of the hotel forward amidst some pretty intense community pushback there is one idea that the community likes; buying the hotel. For a little over $53 million a grassroots group known as "I Ola Wailuanui" would like to acquire the property, renovate it and turn it into a cultural center. They have some very high hurdles to clear besides the obvious one of getting enough donations to make it happen, however they do have some powerful allies that feel it's a good idea.
Then there is the developer which is based out of Utah, will they go along with a sale? The developer publicly stated that they feel the best way forward is to develop the hotel which will provide jobs and revenue to the island of Kauai.
In the middle of this is the hotel itself which has had the words "Hawai'i Is Not America" spray painted on it three times with the developer painting over it each time.
Kauai Visitor Numbers Way Up
In September one sector of our market is up, way up, and that is the number of visitors to Kauai and not in a small way either, in fact we are number one in the increase of travelers out of all the islands.
For the entire state the visitors numbers in the month of September are 95.5% of the pre-Covid levels with 703,270 arrivals in 2022 compared to 736,155 in 2019. The good news does not stop there, spending is way up. September 2022 saw an increase of 18.5% at $1.48 Billion compared to $1.25 Billion in 2019.
Compared to September of 2021 Kauai lead the pack with a 12.5% increase in visitors which totaled 105,100.
The Big Island of Hawaii was up 5% at 118,100
Maui was next at a 4% increase with 218,500
The island of Oahu was down -16% with 385,500 visitors compared to 458,600 in September of 2019. On September 7, 2022 Japanese travel got easier with their government allowing them to travel if they have 3 doses of the COVID vaccine, so I expect Oahu's numbers to change.
Otsuka's Furniture Store To Become Credit Union
For many, many years Otsuka's used to be the go to place for finer furniture here on Kauai. Located in Kapaa the quality and selection of furniture made it worth the drive no matter where you lived and I have fond memories of the owner who was an excellent designer with exquisite taste. But in recent years knowing if they were open or not was as confusing and as their social media.
But now we know. It was announced that the Kaua'I Federal Credit Union acquired the "formally housed Otsuka's" building and will be renovating it. Their plans are interesting and extend beyond being a financial institution. The 20,000 sq ft two story building will house artifacts from local designer and will offer services such as housing stability resources and small business & nonprofit support.
Kauai Real Estate Year To Date 2022 vs 2021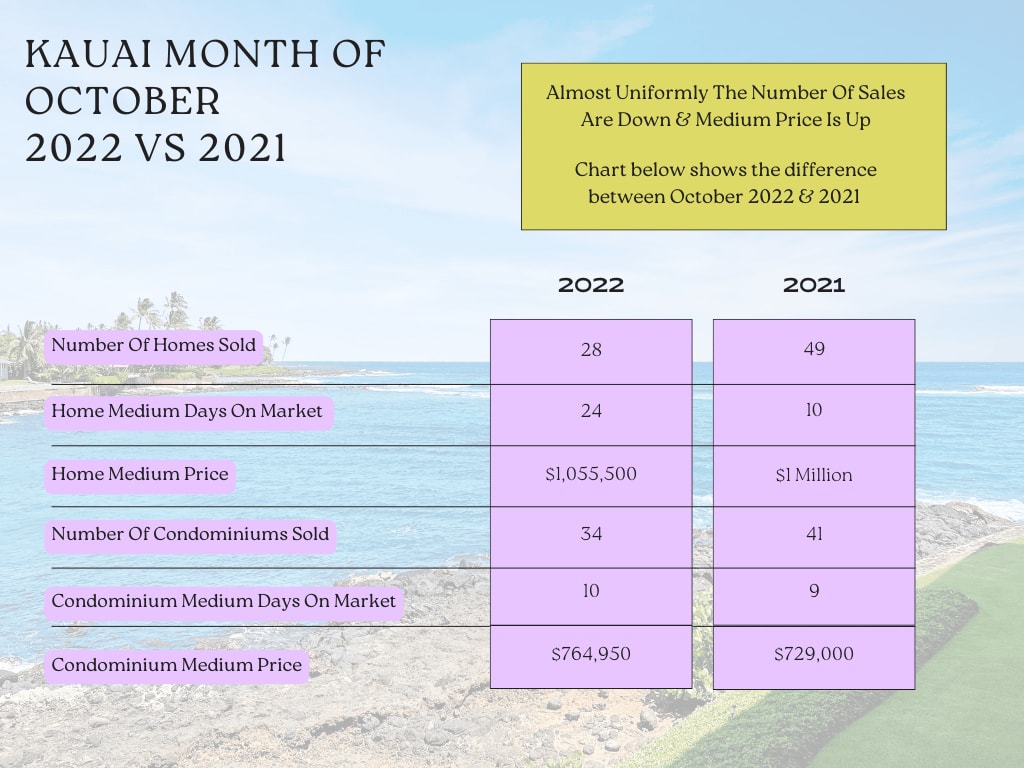 Looking at the year-to-date Kauai real estate numbers and comparing them to this same time last year we see a uniformity in the number of sales are down, the median price is up. The only area that bucked this trend were south shore condominiums and this is due to the lower priced Kiahuna Plantation Leasehold sales.
Looking at the snapshot for just the month of October and comparing it to last year is interesting as it's a microcosm of our overall market.
This graph is general in nature and might not reflect your particular area of interest. You are welcome to contact me for more specific information on how these numbers relate to you.