Kauai Real Estate Update- Last week was a busy one for quick sales island wide. There were 37 closed transactions last week which averages over 5 a day. Of those 37 sales 4 of them had Zero Days On Market and 20 of them were under 40 DOM. For a complete list click here: Kauai Real Estate Update March 7 to 14, 2022.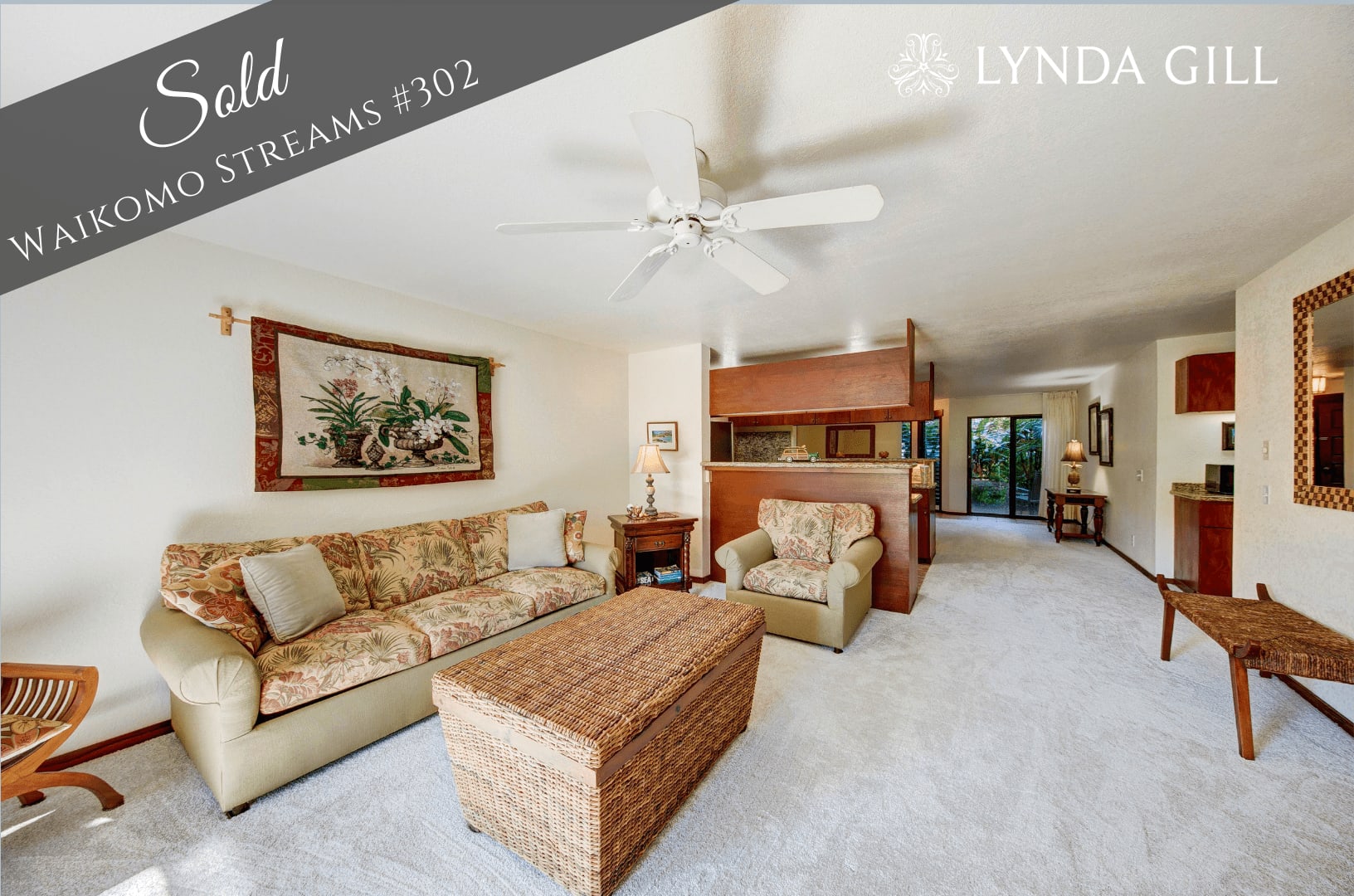 Poipu Beach Real Estate Update- Waikomo Streams #302 Sold! My listing at Waikomo Streams received multi offers and sold for $25K over asking price, we were in escrow only 2 days after being listed. It was no wonder, the fee simple housing and condominium market continues to be red hot, at this writing there are only 2 fee simple vacation rental condominiums on the market in Poipu Beach. For a complete list click here: Poipu Beach Fee Simple Current Market Analysis

Kiahuna Plantation Real Estate Update- Sold! Kiahuna Plantation unit #413 is located in building 40 and it has an ocean view that might surprise you. This corner unit is located on the very top floor with no building on the other side, it's really about as private as you can get. For more information click here: Kiahuna Plantation Unit #413 Sold.
For a complete list of the current Kiahuna Plantation Real Estate Activity click here: Kiahuna Plantation Current Market Analysis

Hawaii Safe Travels and Mask Mandate Both To End
Travel to Hawaii is going to be getting a lot easier very soon. As of March 26 those traveling domestically to Hawaii do not need to do a pretravel test, provide proof of vaccination and they won't have to create a Safe Travels account.
International travelers are subject to the travel rules that have been set by the Federal Government. To see that information, click here: CDC.gov

Governor Ige announced that he's going to drop the indoor mask mandate the day before Safe Travel ends. Starting March 25 masks are not required for indoor or outdoor settings. He cautioned that he is ready to reinstate the mask mandate if Covid cases surge.

2022 Changing Home Trends
While at the LeadingRE convention in Las Vegas this last week I learned that home trends, both in their design and interior décor, are changing. The all glass walls, light grey interiors and ultra-minimalism are going by the wayside and are being replaced with key elements that reflect a new way of living in the home that has been brought about in part, by the pandemic.
• Multipurpose Homes- the "Tiny Home" trend is no more as people are spending more time at home. Spacious living rooms for gathering, home gyms and offices, meditation rooms, large spacious closets and bathrooms are just some of the elements requested.
• Minimalism With A Twist- The crisp white and grey tones are being replaced with cozy, warm, natural and textured spaces that are light and airy.
• Colors- Warm Earth Tones such as terracotta, antique cream, buttery yellows and moss greens.
• Texture & Material- terrazzo and wood floors, clay pots, stone, gold bath/kitchen fixtures, wallpaper and rustic rugs.
• Repurpose & Sustainability- the use of a single antique to add a story to a room or a generational pieces of décor, all the while keeping away from clutter. These single pieces are focused on adding warmth and storytelling to a living space.
Oahu, Maui and Big Island Real Estate 2022 vs 2021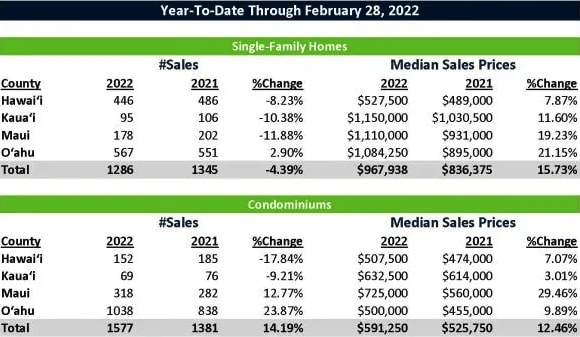 Earlier this month I posted the Kauai Real Estate numbers comparing where we are at in 2022 compared to this same time last year. This week I have the figures for Oahu, Maui and the Big Island.
The other islands, with the exception of Oahu by a very small margin, are also showing the signs of a lack of inventory as they are all down in the number of home sales while their Median Prices are going up.
We see the lack of inventory for condos showing up in the Kauai and Big Island numbers while Maui and Oahu, which have much more in the way of inventory, are up in the number of sales. Across the board the Median Price is up on all islands.
Below is a graph provided by the Hawaii Association of Realtors. Please contact me if you have any questions.
Small Improvements Can Translate To More Rental Income
This subject is one of my favorites; What are the small things that you can do to get more rental income and a higher occupancy rate on your Kauai vacation rental? This is the 7th video excerpt of the Facebook Live chat that I did with Linda Sylvester of Koloa Kai Rentals. In it I ask her what are the things that an owner can do with their Kauai vacation rental that can translate to a higher occupancy and more rental income. From my experience of owning a vacation rental in Poipu Beach I had some idea but I learned a couple of things here as well.
To see more of these videos go to: LyndaGillYouTube.com