Kauai Real Estate Update- For a complete list of what Sold, was Just Listed and what went Under Contract for last week on the island of Kauai click here: Kauai Real Estate Activity December 26, 2022 to January 1, 2023.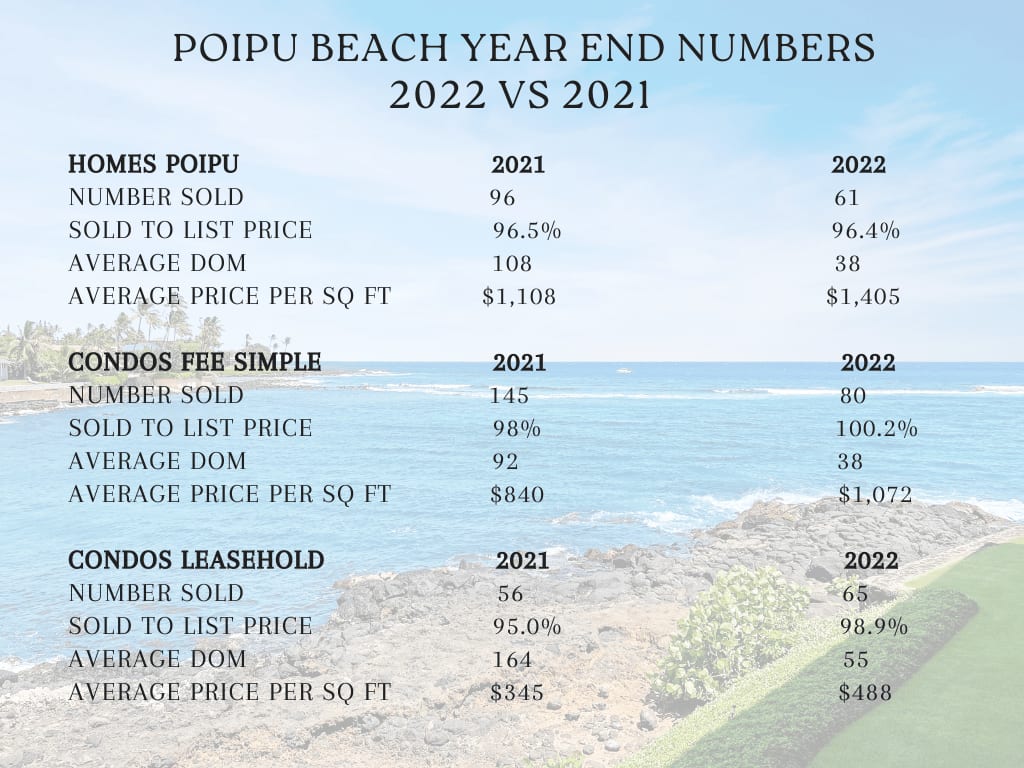 Poipu Beach Real Estate Update- When interest rates went up in May of 2022 real estate came to a standstill as Buyers and Sellers settled into the new market conditions. I stayed focused on the numbers and what was interesting is when you first looked at condo market for the South Shore it went down -3.36% but this is not the whole story. When I backed the Kiahuna Plantation and Sunset Kahili leasehold sales out of the equation the numbers aligned with what I'm seeing for the rest of the island. The graph I have provided breaks down the Residential Home Sales and separates the Fee Simple from Leasehold Numbers for the year 2022.
For a Poipu Beach market report click here: Poipu Beach Current Market Analysis
Kiahuna Plantation Real Estate Update- Last week I listed Kiahuna Plantation unit #184 which has a very special location. It's in building 28 which only has 6 units in it and unit 184 is a corner unit located on the top floor with floor to ceiling louvered windows on one of its side walls. The views are iconic and you can have your toes in the sand within minutes. Currently this unit is in a rental program and I'm happy to provide rental information for you. For now enjoy the video!! Listing price is $825,000 (LH) and you can click here for more information: Kiahuna Plantation 184
For a complete list of all the properties available at the Kiahuna click here: Kiahuna Plantation Current Market Analysis


Search For Missing Swimmer Ends
Last week the search for a 56 year old California man was called off after Kauai Fire Department and Lifeguards spent four days searching for him. Prakash Shroff from Gilroy, CA had gone swimming with two other family members off Anini Beach on the North Shore a week ago last Sunday when they found themselves in some bad ocean conditions. Two of the family members made it back to shore but Shroff did not. His drowning is the 12th one for Kauai in the year 2022.
Kauai Jobless Rate Drops To 4.4% Projected To Go Lower While Business Shut Down and Reduce Hours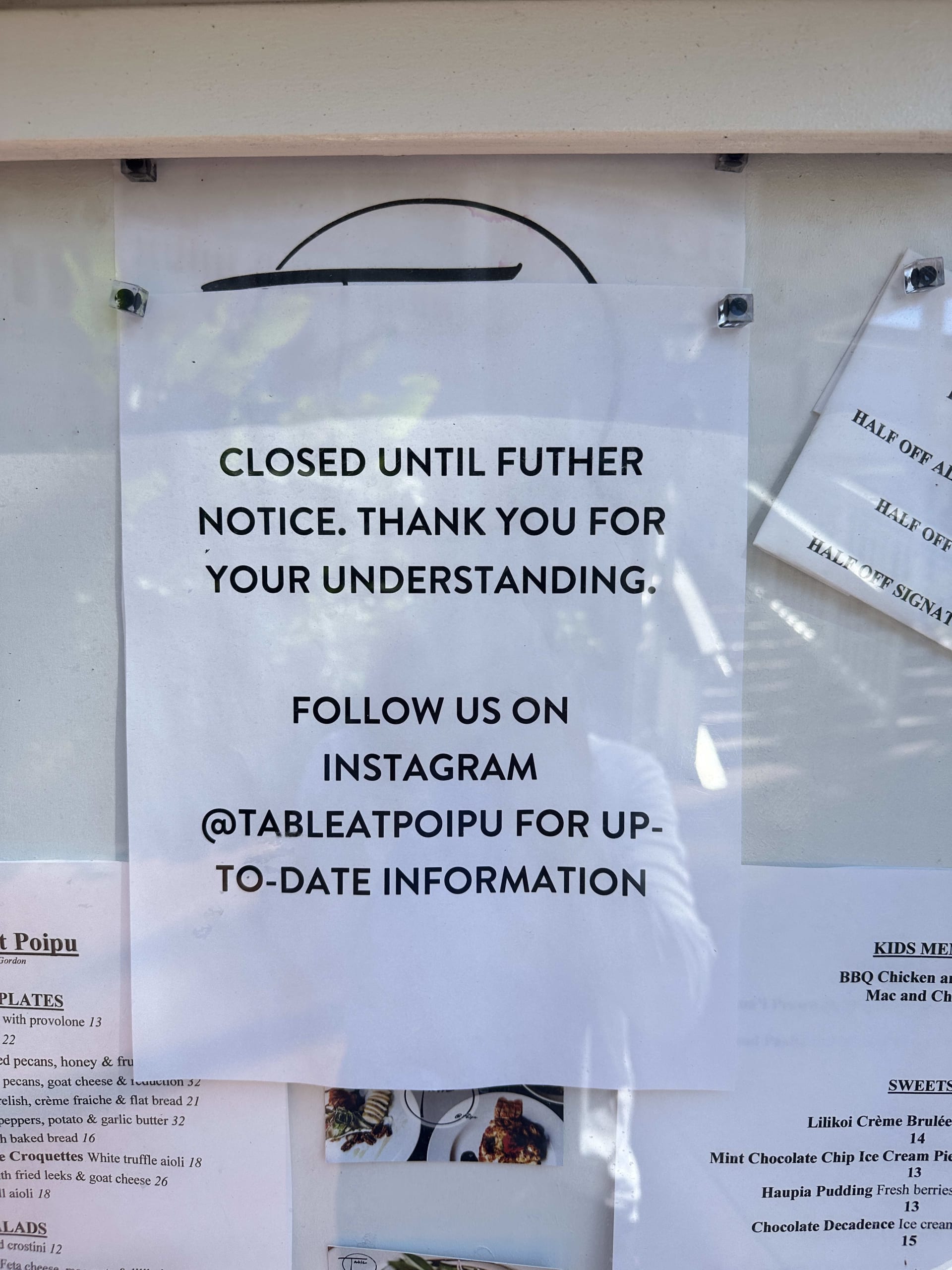 At the Kukui'ula Shopping Village the restaurant "Tables" has been shut down until further notice. Lapperts had very limited hours this last week. All this is not because there is a lack of business, far from it. It's a lack of workers.
Our unemployment rate here on Kauai dropped to 4.4% in December from 5.9% in November of 2021 and it's expected to drop further to 3.8%.
Food service and bars climbed 18.9% but it's not enough to keep some places open. The accommodation sector is up 17.6%.
Across the state unemployment fell, Oahu is at 3.8%, Big Island is 4.3% and Maui 4%.
Kauai Year End Real Estate Review
What a year for real estate last year was! May of 2022 was a game changer for Real Estate on a National level. That's when the Feds started increasing the interest rates and they more than doubled in a short time and the market, well it came to a dead stop. Immediately the talk shifted to what is going to happen next in the real estate market and that talk ranged from speculation of another 2008 housing crash to those saying buy now and refinance later. Honestly, any opinion you wanted to hear you could.
The only thing I heard that made any sense to me was a comment from an appraiser who has been doing appraisals here on Kauai for over 30 years. This guy has nothing to sell and has been through a number of up and down markets. He's seen it all and, he's seen it a couple of times. He said to me: "Who really knows what the outcome will be as we come out of this pandemic driven market? We've never seen anything like this!"
That was the only opinion that resonated with me.
Below is a graph of last years activity compared to 2021. What's important about this graph is it's seven months after the interest rates went up, so we have some solid data on how the market is looking. You are welcome to contact me to find out how these numbers relate to your area of interest.