Kauai Real Estate Update- I just sold this adorable Kalaheo Townhome for the full asking price of $900,000. With a door installation on the sizable bonus room this 2-bedroom townhome had 3 definitive rooms. The spacious enclosed backyard has mature fruit trees such as Mountain Apple, Hawaiian Orange, Sugar Loaf Pineapple and Lychee. Plant fresh veggies and fruits in the raised planter bed. One of my favorite features was this lovely fire pit that the Sellers had installed. Properties like this go in a heartbeat but with some planning, and some patience, a purchase like this can happen. Contact me if you'd like more information on your particular area of interest.
To find out what was Just Listed, Sold and what went into Escrow last week on the Island of Kauai click here: Kauai Real Estate Update April 4 to 10, 2022.
Poipu Beach Real Estate Update- Last week I posted about my new Poipu Crater unit #4 that came on the market. This clean 2 bedroom 2 bath unit with AC quickly received multiple offers and we're in escrow. To see more on this unit click here: Poipu Crater #4 Original List Price: $925,000
For a list of all the Poipu Beach Fee Simple real estate activity since the beginning of this year click here: Poipu Beach Current Market Analysis
For the Leasehold Kiahuna Plantation click here: Kiahuna Plantation Current Market Analysis
Koloa Rum Expands To Kansas
With the ultimate goal of being in all 50 states Koloa Rum just got a little closer to their end goal. Kansas is the latest state that has Koloa Rum with various retailers making this the 31st state to carry the Kauai local grown product. The last couple of years the states of Minnesota, Missouri, Colorado and Michigan saw Koloa Rum bottle popping up in various stores.
Did you know: you can find Koloa Rum in Australia, Austria, France, Germany, Italy, Japan and Western Canada? It's true! To find out more visit their website at: www.KoloaRum.com
Oahu, Maui and Big Island Real Estate Year To Date 2021 vs 2022
Last week I blogged about Kauai's real estate numbers compared to this same time last year. This week I have the numbers from the Hawaii Association of Realtors for the other islands. The pattern is the same: on all islands and in every category, except for condos on Oahu, the number of sales are down due to lack of inventory. Makes sense that Oahu still has some inventory given the number of high rise condo complexes on the island. The Median Price is up across the board with the exception of Kauai for condos (this was explained in last weeks blog). Kauai leads the way with having the highest Median Price for a Home and for Condominium. Graph is below, let me know if you have any questions on this information.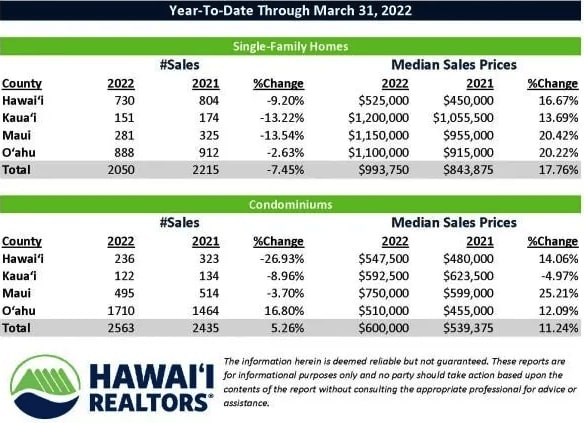 Hawaiian Airlines Now Adds New Zealand To Their Reinstated Australia Flight
Last week Hawaiian Airlines announced that they will restore their Honolulu to New Zealand route starting July 2, they will be flying directly to Auckland 3 times a week. Due to COVID the route was stopped over 2 years ago.
For domestic travel Hawaii's Safe Travel Program had ended but not so for International Travel. Proof of Vaccine and a negative covid test are required for entry into Hawaii.
Last December the airline had restored their Honolulu to Sydney route which completes Hawaiian Airlines Oceania market.

Little Fixes Can Add To Rental Income
This is the 9th and final video from the Facebook Live that I did with Linda Sylvester from Koloa Kai. In this one she talks about how doing those little fixes can increase your rental income. Here she talks about how a loose towel rack and other small items like this negatively impact an owners bottom line. It made a lot of sense to me the way she explained it. Enjoy the video and to see more in this series go to: www.LyndaGillYouTube.com